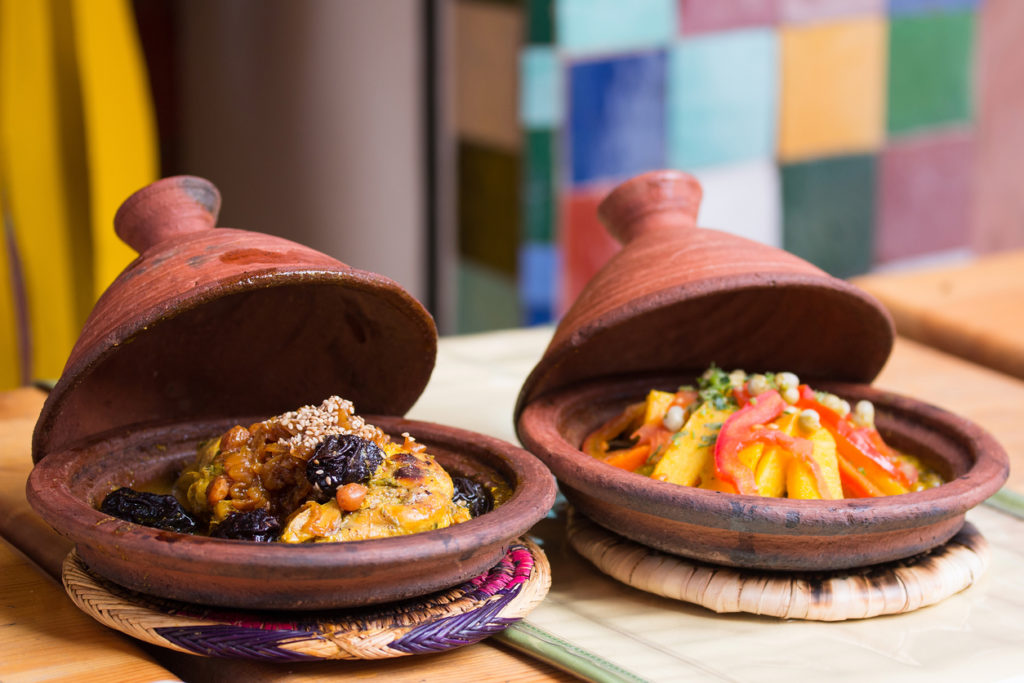 The delightful food of Morocco is an intriguing frenzy of spices and flavours. Only here you will get to eat savory chicken pastries dressed in powdered sugar and love it! Even if their recipes are a tad strange for our taste buds, as soon as you delve into the sublime blends of spices and herbs, you'll want to taste and learn more about Moroccan food.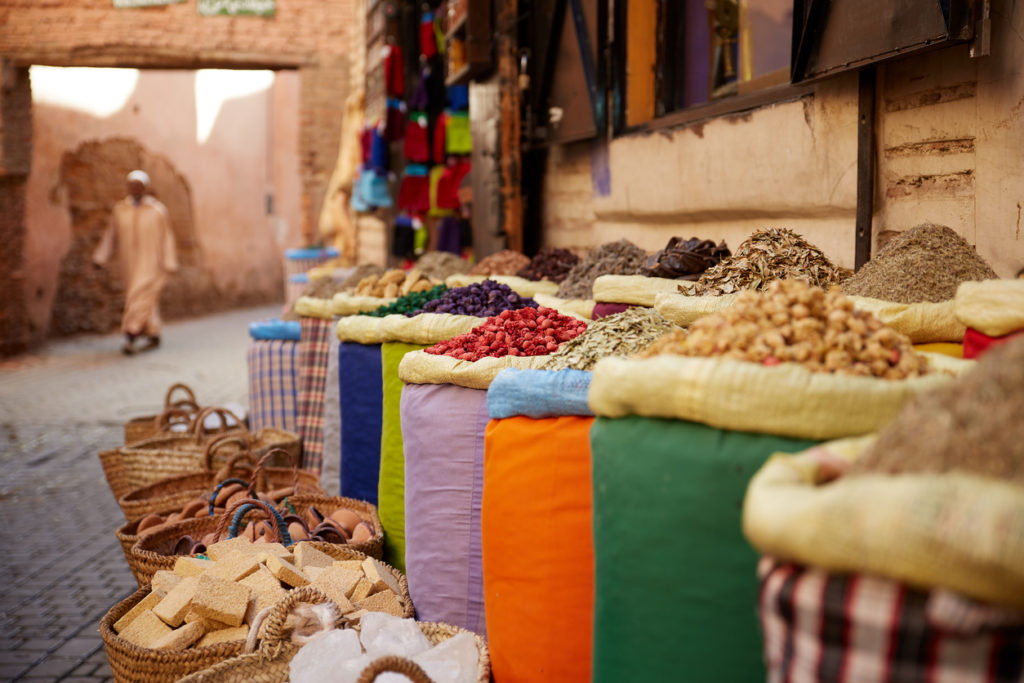 Known for their flavorful dishes, slow-cooked meats, and delicious couscous, the Moroccans add passion and creativity to their cooking. The country's Arab and Berber traditions have made their way into the local recipes, accompanied by French and Spanish influences. Discover the delightful food of Morocco, and indulge in their most popular specialities:
Couscous
The couscous is omnipresent in the Moroccan kitchens. Whether it's couscous with vegetables, lamb, or chicken, this dish is the perfect way to gather the entire family around a big plate and socialize. Prepared from semolina wheat steamed and served with meats or vegetables, the ancient couscous is usually served on Fridays, the Muslim holy day. Originating from the Maghreb culture, the couscous will often make an appearance in various dishes and will accept spices and raisins as companions.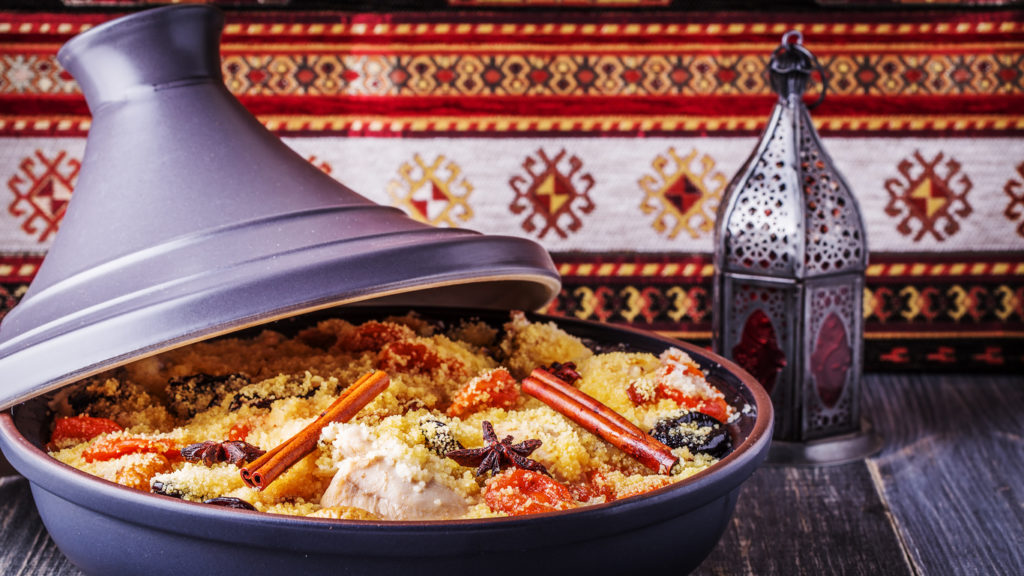 Tagine
An iconic Moroccan food, tagine is a slow-cooked stew named after the conical clay pot used for cooking it. This stew is made with meat (usually chicken or lamb) and vegetables, accompanied by spices, nuts, and dried fruits. The result is tender meat drowned in an extravaganza of bold flavors. Tagine is usually eaten directly from the pot using a piece of Moroccan flatbread just taken out of the oven. The vegetarian version replaces meat with more vegetables but is as delicious as the original recipe.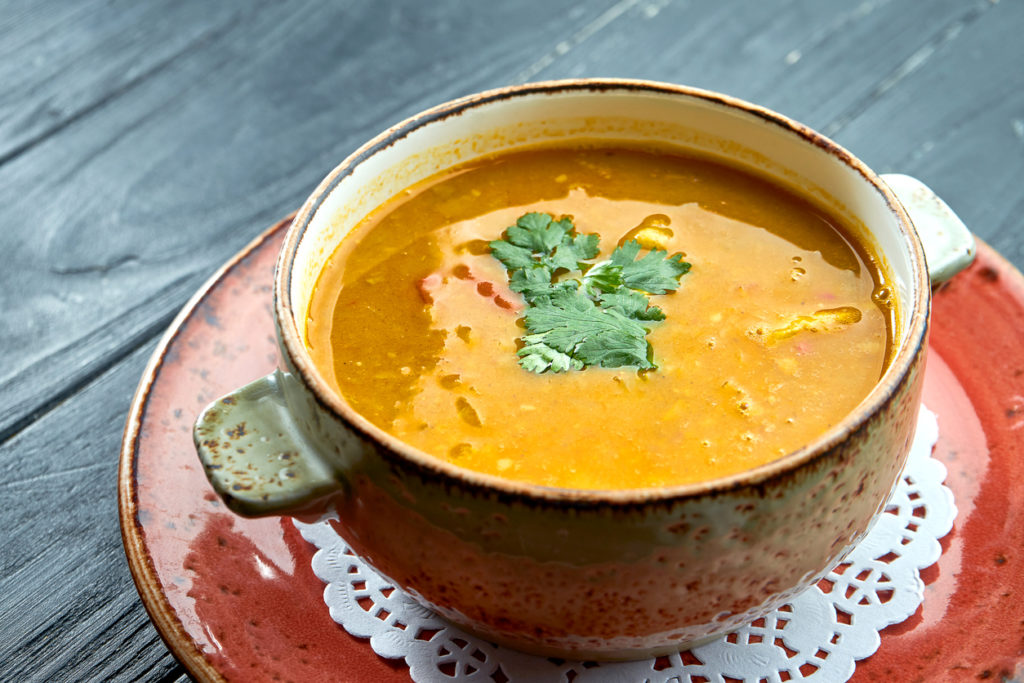 Harira
The traditional Harira soup is often served during Ramadan, at sunset, when the fast day has ended. Delicious and hearty, this tomato-based soup is made with chickpeas, lamb, and chaariya (noodles). For the final touches, you'll feel the presence of lemon juice. Harira is best enjoyed with a chebakkiya, a sweet pretzel that goes surprisingly well with the mixture. You'll find it in most Moroccan restaurants and it's a great choice either as lunch or starter.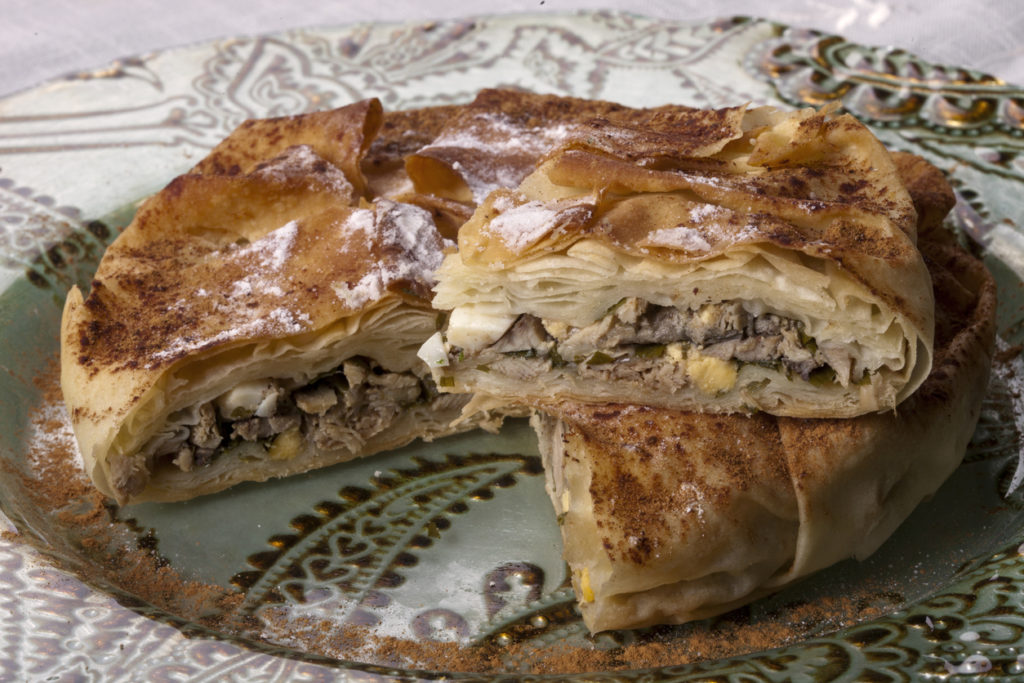 Moroccan Chicken Bastilla
A spectacular combination of sweet and savory, the Moroccan chicken Bastilla is as intriguing as it sounds. This savory pie made from chicken cooked with eggs, saffron, ginger, and cinnamon, is wrapped in a crispy Warga pastry similar to the phyllo pastry present in the Greek cuisine. The delicious mélange is then topped with fried almonds and caressed by the suave touch of orange flower water. This sublime fusion of textures and aromas is served at special dinners, dressed in a thin layer of powdered sugar.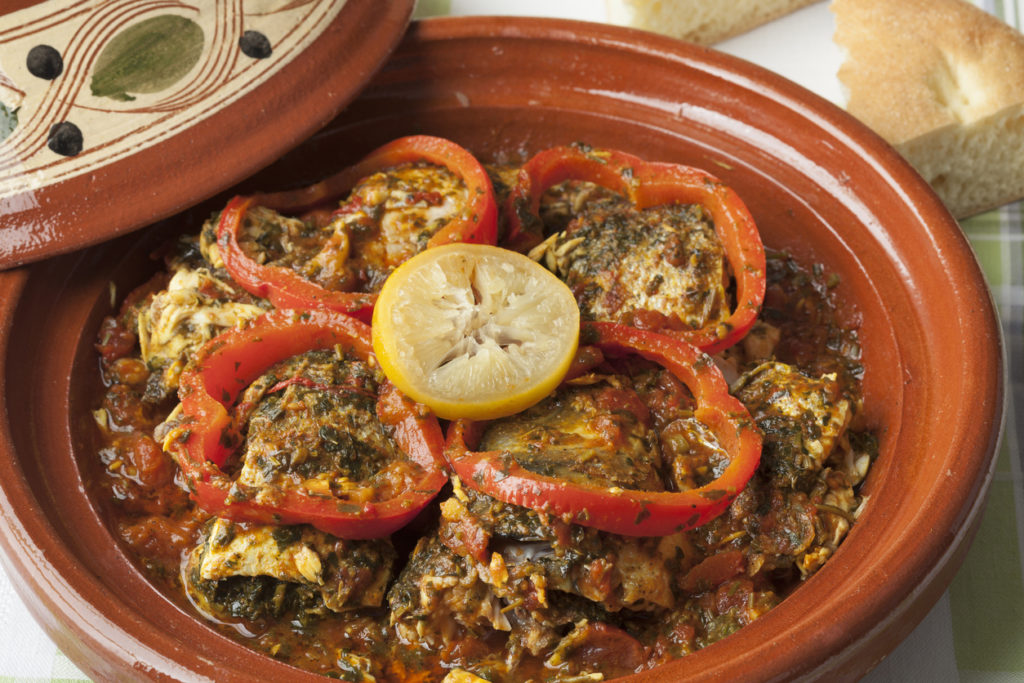 Fish chermoula
Boasting long Atlantic and Mediterranean coasts, Morocco delights travelers with a vast variety of seafood and fish dishes. Chermoula is a marinade prepared to accompany seafood and fish. This thick dip is made with a mix of herbs and spices and added to the fish before grilling the dish over coals. As expected, the chermoula marinade varies from village to village, but it always serves its main purpose: to be a loyal and tasty companion to fish dishes.
Makouda
There's no talking about the delightful food of Morocco without mentioning the country's delicious street food. Makouda is one of its proudest representatives, little deep-fried potato balls are often chosen as a side dish for kebabs and calamari, and accompanied by spicy harissa sauce. One of the best places in Morocco to find a variety of Makouda is Djemaa el-Fna square, in Marrakech. 
B'stilla
A speciality of the Fassi cuisine originating from Fez, B'stilla is mostly eaten on special occasions because of its complex cooking process. This dish is made from pigeon meat or chicken mixed with a sea of spices, including coriander, parsley, saffron, turmeric, and ginger, as well as eggs, ground almonds, and peanuts. This hearty concoction is then wrapped in a traditional Warqa pastry and baked. For the final touches, you'll find cinnamon and icing sugar that adds the (missing?!) sweet touch.