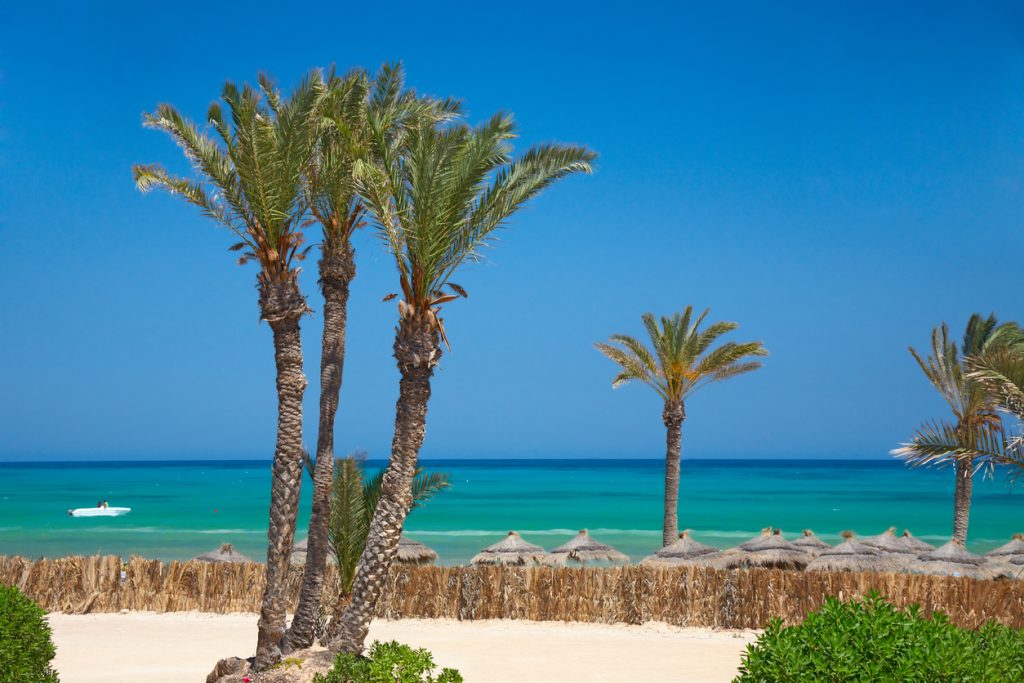 Tunisia is a destination for beach lovers and sun seekers. Nevertheless, adventure travelers and history aficionados will also find plenty of marvelous ways to spend their days. Less visited than Egypt and Morocco, Tunisia surprises first-time travelers and delights loyal visitors. Blessed with a lovely climate and adorned with beautiful Mediterranean beaches, Tunisia welcomes travelers in an exotic North African corner. From its elegant ribbons of fine sand and sugar-cube houses to its majestic ancient ruins and the overwhelming presence of the Sahara desert, this underrated destination encapsulates a unique Islamic world dipped in French culture that exudes an unforgettable Mediterranean charm.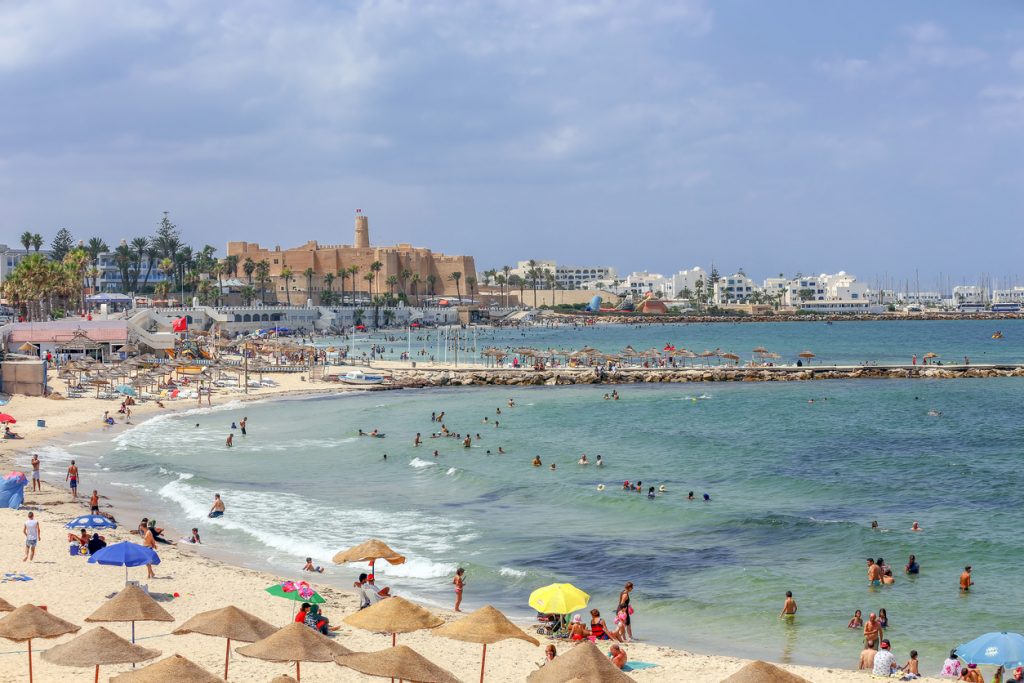 Before planning your Tunisia holiday, it's useful to know that Tunisia is one of the most politically moderate countries in North Africa and upholds democratic principles. Moreover, Tunisians are not Arabs as many think but a mix of Berber people that have more in common with the Mediterranean peoples than with the Arab ones. And, above all, this is a friendly country dedicated to sustaining tourism and creating a relaxed and safe setting for travelers who are looking to relax in Tunisia.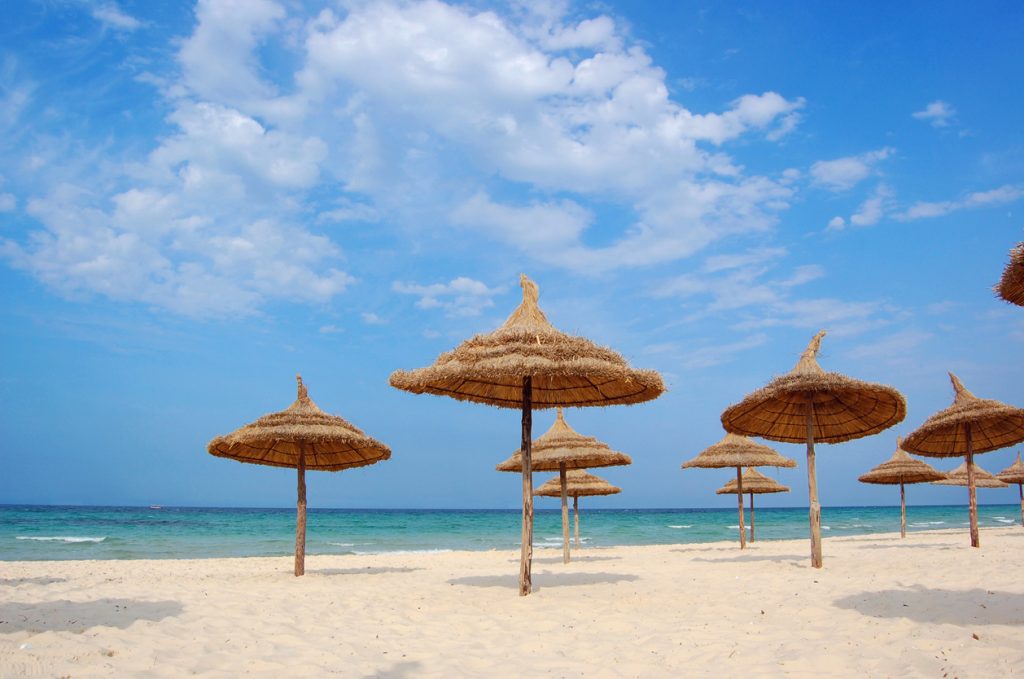 Tunisia for sun worshippers
Tunisia is a magnificent beach destination due to its impressive coastline caressed by the crystalline waters of the Mediterranean Sea. You'll find both luxury resorts in Tunisia with superb pools and elegant restaurants and tiny coastal villages with private accommodation, cobbled streets, and walls adorned with blooming bougainvillea.
To the north of Tunisia await hypnotic crystal clear blue waters fringed by stretches of golden sand, lush vegetation, and rugged cliffs, while to the south you'll embrace the immensity of the desert landscape. Among the most popular beaches in Tunisia, you'll discover the superb coastal town of Hammamet and its fabulous white-sanded beaches perfect for swimming, surfing, snorkeling, and scuba diving. The resort town awaits only 41 miles south of Tunis, Tunisia's capital, and combines the exotic vibes of a beach destination with the historical attractions of an old Tunisian town housing Roman ruins and a 15th-century wall.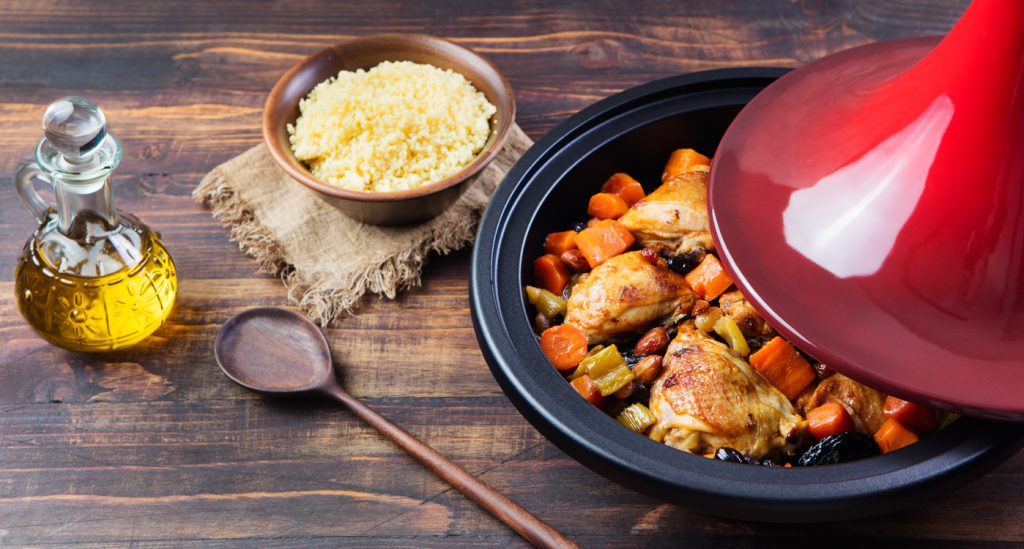 The central coast of Tunisia is under the reign of the glamorous Monastir, once a fishing port and today a popular beach resort town. The town is home to numerous resort hotels as well as the famous Ribat, one of the oldest Arab fortresses in Africa, which dates back to 796 AD.
The splendid island of Djerba often finds itself among the top beach destinations in Tunisia, a land blessed with a picture-perfect coastline dressed in white powdery sands and lined with old villages and towns. The town of Djerba houses a 16th-century fortress and a myriad of alleys decorated with whitewashed houses and little boutique shops selling traditional merchandise, such as carpets, pottery, and jewelry.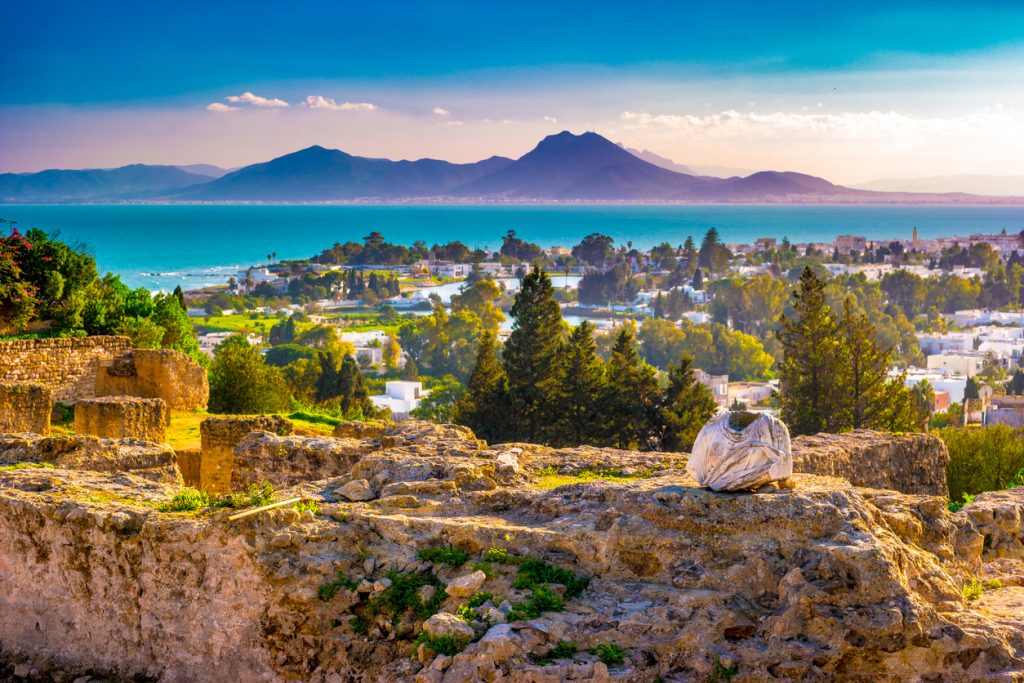 Tunisia for history buffs
History buffs will be on their toes during their Tunisia holiday. A fascinating country, Tunisia has a rich past and abounds in ruins, museums, and historical attractions. Starting from the days when the Phoenicians settled in Tunisia in the 1st millennium BCE and when the Romans were lured here due to the country's increasing power to the days when the French made it a French protectorate in 1881, Tunisia has gathered many fantastic historical tales to tell.
As soon as the country gained its independence from France, in 1956, Tunisia set itself on a path to development and modern reforms lead by its first president, Habib Bourguiba. However, when President Zine El Abidine Ben Al took over the country in 1987, Tunisia had to endure human rights violations and many years of dictatorship. In 2011, following the Jasmine Revolution, the state found the road to a modern democracy once again.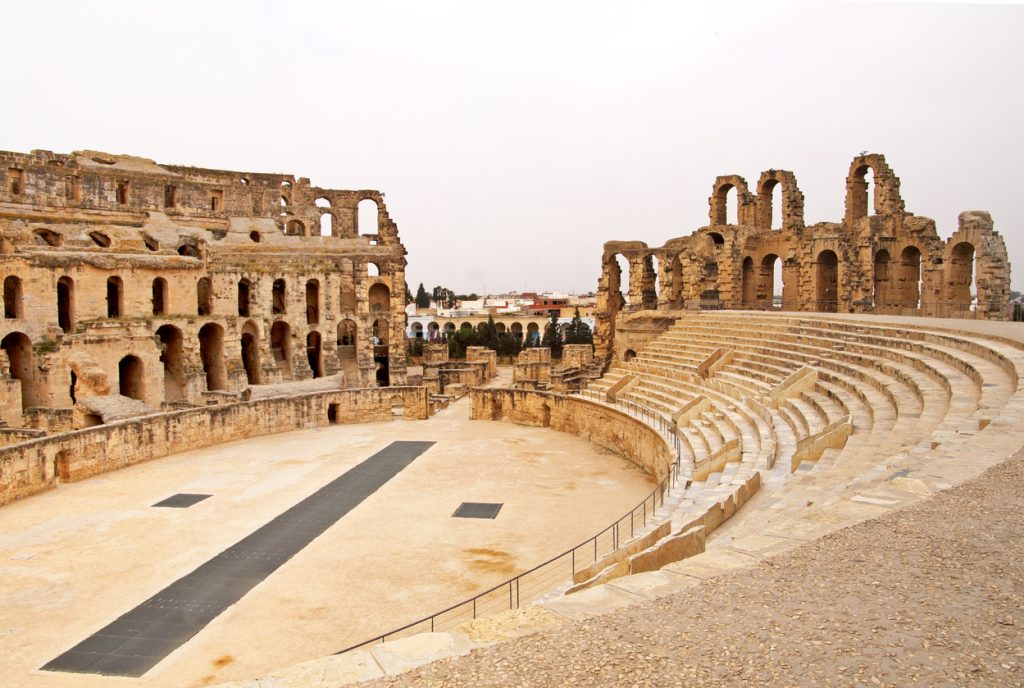 As expected, the most valuable pages of history are the ones illustrated by Tunisia's ancient sites. Start your incursion into Tunisia's history with a stop at the phenomenal UNESCO World Heritage Site El-Jem. Dating back to the 3rd century, this gargantuan structure is the largest Roman amphitheatre in North Africa, accommodating no less than 35,000 spectators during its glory days.
Continue your Roman history exploration with a stop at Dougga, another UNESCO World Heritage Site, and one of the best-preserved ancient ruins in North Africa. One of Tunisia's most beautiful attractions, Dougga awaits perched on a hill and houses many Roman ruins, as well as gorgeous monumental buildings.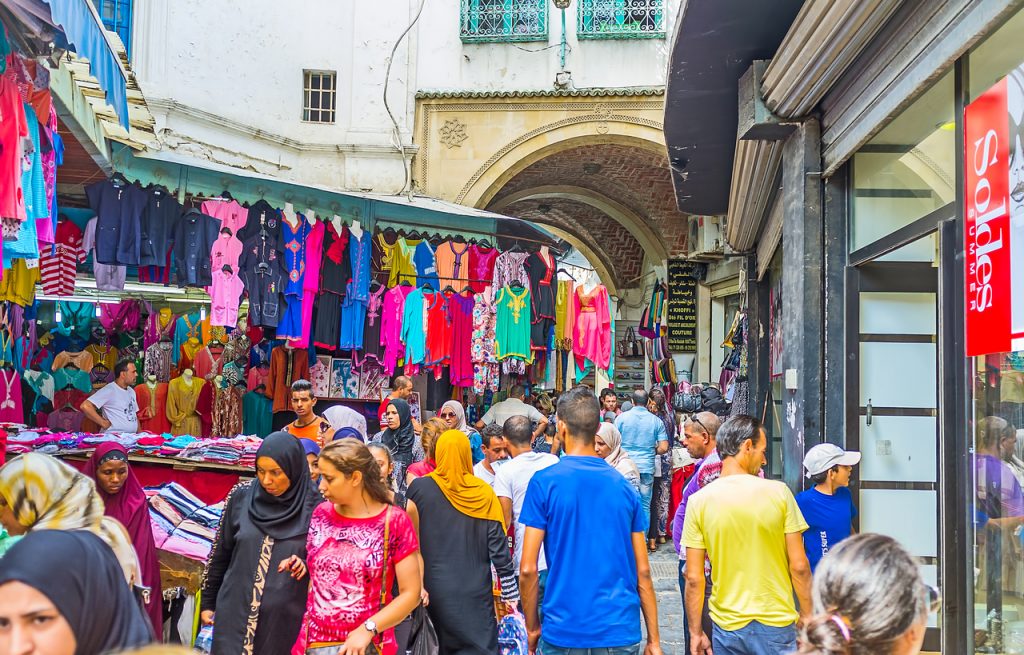 No trip to Tunisia is complete without a journey of exploration of the country's capital, the wonderful Tunis. There's a certain bohemian ambiance wrapped around the city, a city where you'll discover a delightful mix of Ottoman, Arabic, and French-colonial touches, hidden in both the old and new Tunis. From the shady alleys that adorn the city's medina to the French-style avenues that remind people of Champs-Elysees and the glamour of Paris, Tunis surprises at every corner. A great destination to relax and discover more about Tunisia's history, Tunis enchants visitors with cool vibes and interesting museums, like Bardo Museum.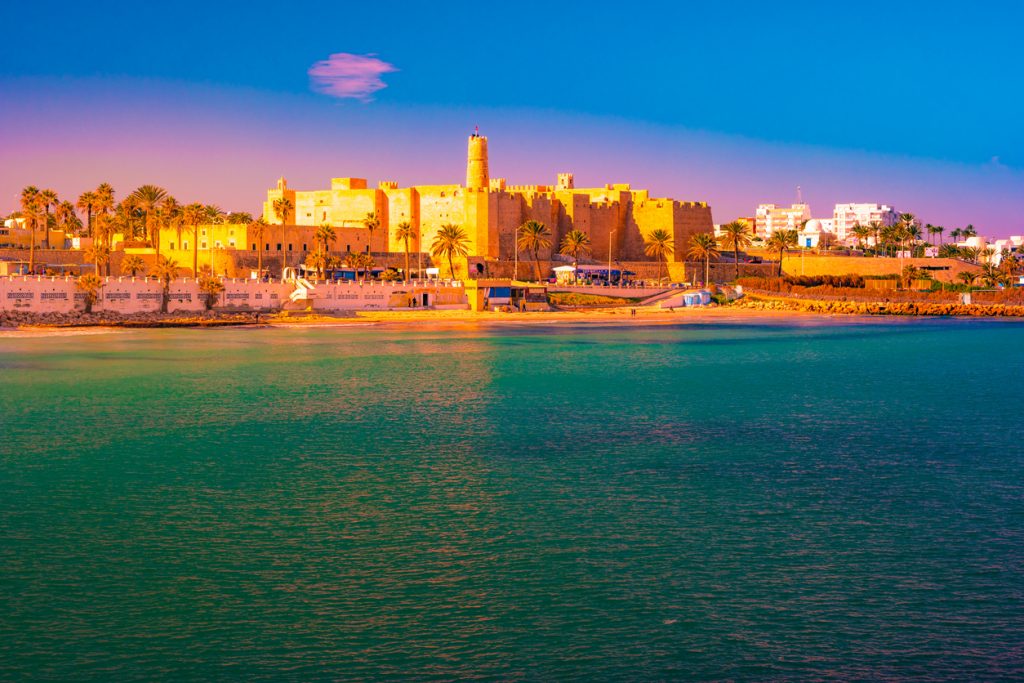 Whether you're visiting Tunisia for its beaches, history or adventurous 4×4 trips on the dramatic dunes of the Sahara, add to your itinerary at least one visit to a local hammam, a traditional "Turkish" bath set in a lavish setting. Nothing will relax you more than to indulge in a five-star spa experience in one of the many hammams in Tunisia.
If you liked this article you may also enjoy reading this one: https://www.purevacations.com/family-travel-to-costa-brava/