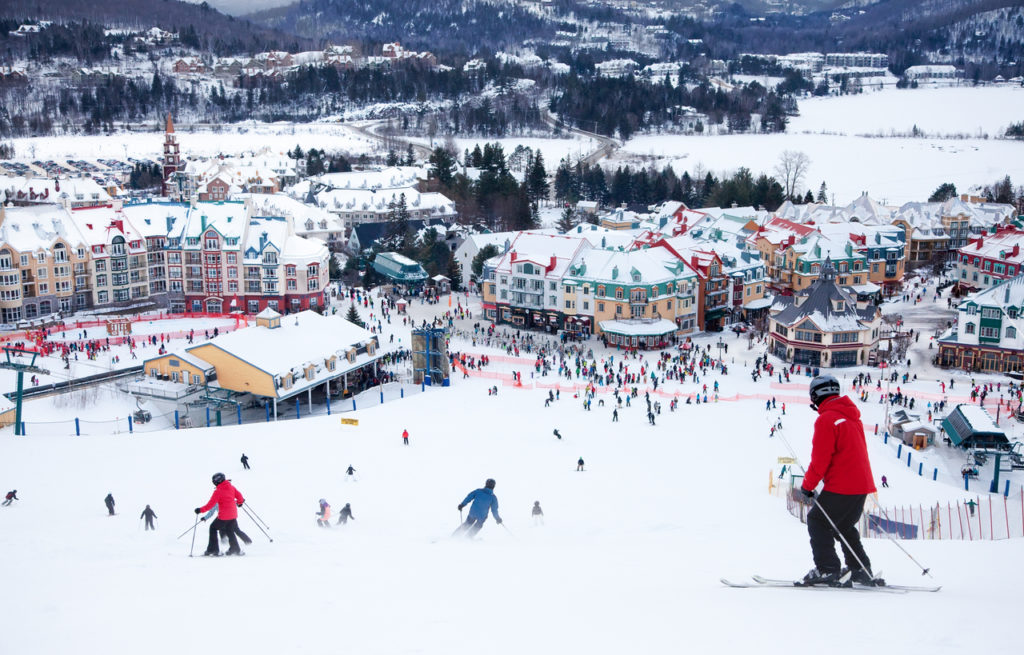 When touched by winter, Quebec turns into a magical icy playground ideal for a myriad of adventures and activities in the snow. Skiers flock to the slopes of Quebec and the province becomes a beguiling winter spectacle glistening in the sun. However, don't think that winter fun in Quebec limits itself to skiing.
The province is a paradise for all winter sports enthusiasts, luring travelers with a variety of things to do in the snow, from tubing and dog-sledding to arctic spas and igloo parties. And if you want to truly experience an apré-ski extravaganza, Quebec is definitely the place to visit.
Have fun in the snow on Mount Royal
One of the many advantages of spending your winter in Montreal is that the great outdoors await at your doorstep. Mount Royal is just a bus ride away from Montreal and welcomes visitors with fun activities and superb panoramas of the city. You can try cross-country skiing, snowshoeing, ice skating on Beaver Lake or simply have a walk in the beautiful forests. Snow tubing is also an option, especially if you want to step out of your comfort zone and enjoy a fun and speedy ride in the snow. Back in Montreal, you'll find more ice skating rinks, including the Natrel Skating Rink situated in the charming Old Montreal, next to the famous Ferris wheel.
Dance the night away at the Igloofest
One of the most popular festivals in Canada, Igloofest enlivens the winter evenings of Montreal with electronic music, laughter, and great food. The festival takes place in the Old Port during the last two weekends of January and the first weekend of February and welcomes famous names from the EDM world. And even though the winter weather in Montreal is merciless, dancing under the stars while listening to the music of renowned DJs will keep you warm and happy.
Celebrate snow at Montreal Snow Festival
The Montreal Snow Festival or Fete des Neiges takes place over four weekends and gives both locals and tourists alike plenty of reasons to play in the snow. A family event, this festival is a great excuse to gather your friends and family and enjoy ice skating, snowshoeing, and skiing, as well as sled races, snow tubing, ice slides, and hockey tournaments. No one ever gets bored at the Montreal Snow Festival! The event takes place near one of the most popular attractions in Montreal, the Biosphere, in January and February. And what's even better is that many of its winter activities are free and kid-friendly!
Enjoy the winter gifts of Mont Tremblant
Situated only one hour away from Montreal, the Laurentian Mountains are a paradise for winter sports fans. While skiers flock to Ville de Mont-Tremblant, one of the best ski destinations in North America, to conquer a 968 m-mountain, adventurers who want to try something new can rent a fat bike and test their limits on the hilly terrain in the area and admire a superb icy realm. Dog-sledding too is an excellent way to discover this magnificent winter wonderland. Book your ride at the Kanatha-Aki activity center at Val des Lacks and let a gang of huskies guide your way through a maze of pines. An awarded ski destination, Tremblant is a great place to spend a fun family holiday.
Ski to your heart content in the Laurentian Mountains
Sommet Saint-Sauveur awaits only 45 minutes from Montreal and overlooks a superb village. It is equipped with an excellent snow system and provides the largest night skiing area in the Laurentian Mountains. The resort is home to one of the largest snow parks in Quebec province and offers great ski trails and snow tubing adventures. Mont Blanc Ski Resort is an amazing destination for family holidays due to its impressive 43 ski trails and various levels of difficulty. An attractive winter destination for skiers and snowboarders alike, Mont Blanc is also a wonderland destination for beginners who have access to magic carpet lifts and a superb snow park, as well as a huge indoor play park.
Enjoy a ski day just a stone throw away from Quebec City
Nearby picturesque Old Quebec awaits the small ski resort of Le Relais, a cozy haven for families and beginners. Despite its relatively small size, the resort has 32 runs and 28 of them are open till late in the evening. Downhill skiing is fabulous on the slopes of Stoneham, just 15 miles north of Quebec. Covering an area of 326 acres on three mountains, Stoneham doesn't have high peaks, but it has 29 runs and several off-piste slopes for advanced skiers, three terrain parks for freestylers, and the largest night skiing area in the country. Mont Sainte-Anne tempts winter sports enthusiasts with 66 runs, 10 lifts, and an 8-passenger gondola, as well as with cross-country skiing and snowshoeing. For an unforgettable experience on the slopes, plan a trip to Le Massif that boasts the highest vertical drop in Canada outside of The Rockies and welcomes winter sports fans with 52 runs and lovely views of the St. Lawrence River.
Don't miss the Quebec Winter Festival
A winter extravaganza, the Quebec Winter Festival is a family-friendly event that abounds in fun rides and activities, street parties, and colossal snow sculptures. Taking place on the Plains of Abraham, just outside the city walls, the festival invites visitors to try cross-country skiing, skating, and snowshoeing, as well as to go dog sledding or turn into a human bowling ball. If rolling around in the snow is not your idea of fun, you can take things slower and just enjoy a horse-drawn carriage ride or taste the maple taffy. If you're up for a challenge, you can take a snow bath or compete in a canoe race on the Saint Lawrence River. Watch out for the ice chunks along the way!
If you like this you may also like this article: https://www.purevacations.com/skiing-in-the-french-alps/