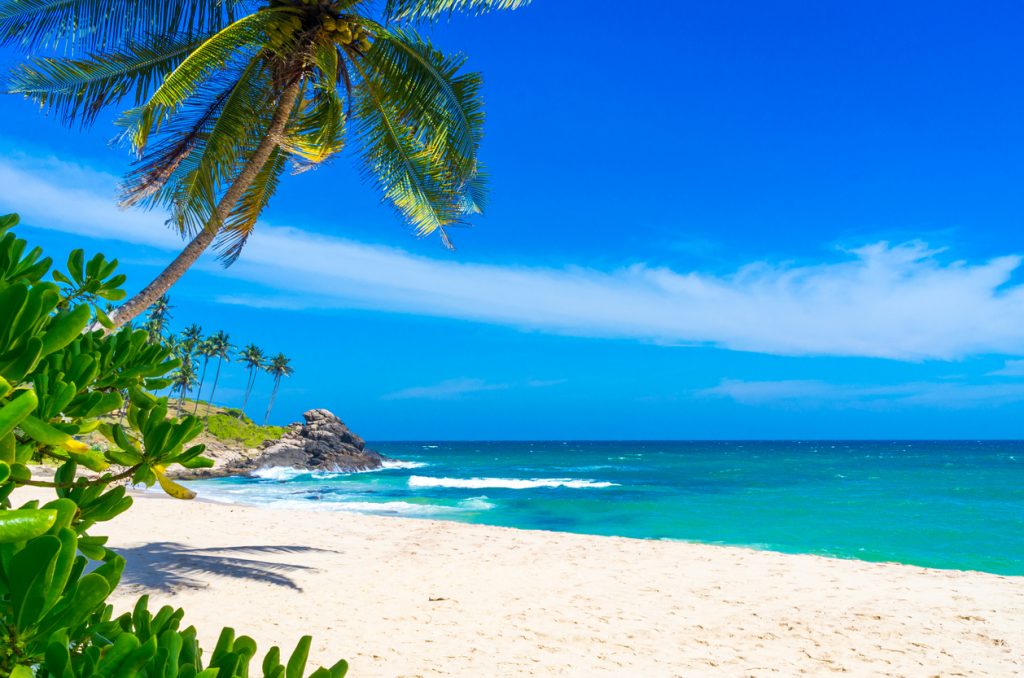 It's no secret anymore that Sri Lanka is a fabulous beach destination. Fringed by miles of splendid coastline that frames a jungle-clad interior where you'll find fascinating ancient ruins, impressive national parks, and lovely tea estates, Sri Lanka is the perfect destination to combine a beach getaway with a cultural tour. Ideal for families, couples, and solo travelers, this destination has a beach for everyone.
West coast beaches
The west coast welcomes visitors with a string of fine beaches and modern resorts. This is the most developed and "touristy" coast of Sri Lanka, a place where you'll feel the Western touch. It has large resort hotels close to Colombo, the island's capital, many tourists choosing to book their accommodation in Negombo, Kalutara, Beruwala, and Bentota.
The beach town of Negombo is packed with water activities and hotels. It's a vibrant resort, situated close to the Bandaranaike International Airport, ready to serve tourists eager to be lazy on golden sands. You can enjoy a variety of watersports, from boat trips to kitesurfing, and discover a lovely town where you'll find colonial architecture and the ruins of an old Dutch fort. The blue lagoon is ideal for birdwatching and excellent for snorkeling and diving.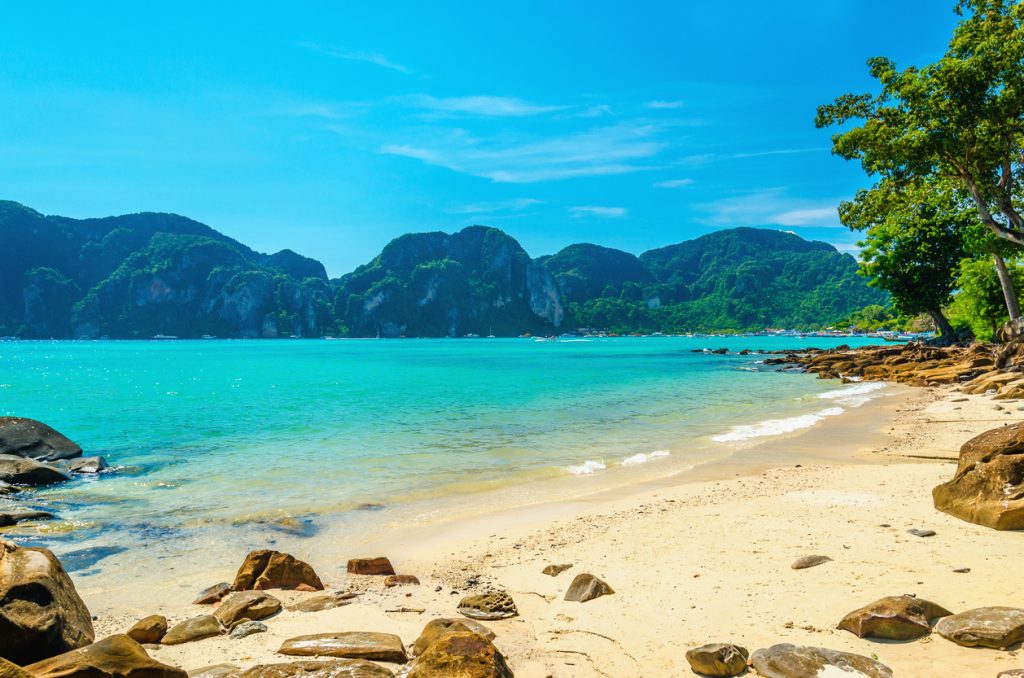 Bentota hypnotizes travelers with still waters and a powdery strip of sand. Often the first choice for sun worshipers, Bentota abounds in hotels and outdoor activities. Waterskiing, jetskiing, and windsurfing are available year-round due to the presence of a superb lagoon nearby. A boat safari along the Bentota River is a great opportunity to spot aquatic birds and discover a mesmerizing mangrove scenery.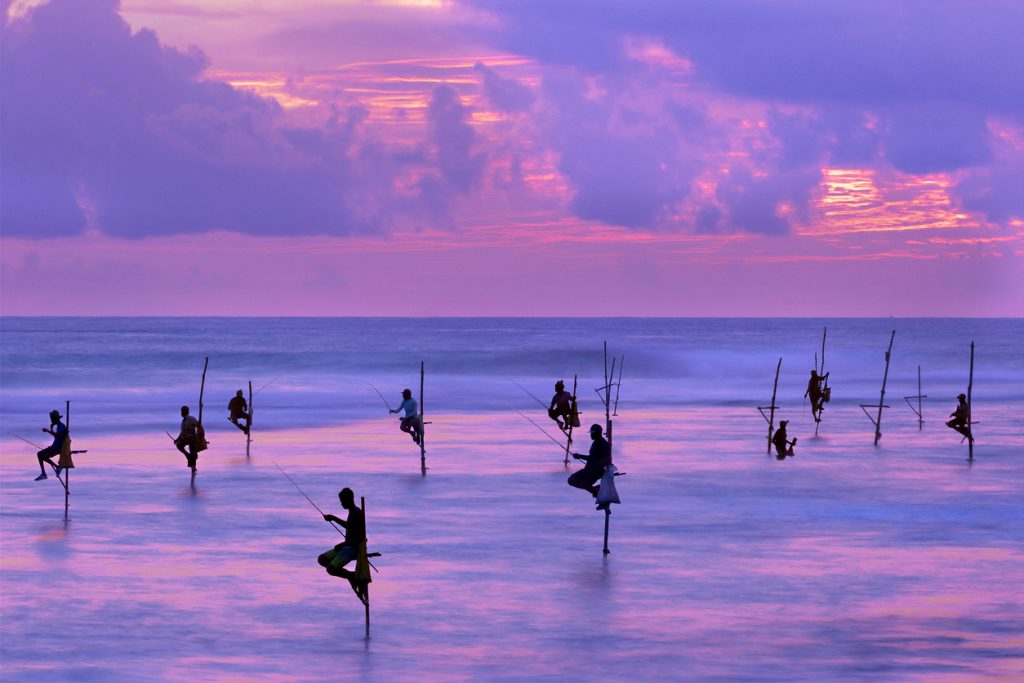 South coast beaches
While the west coast is the most developed, the south coast remains the most beautiful part of Sri Lanka. Blessed with pristine beaches, colorful coral reefs, colonial towns, and splendid wildlife parks, the south coast unveils a genuine facet of this enchanting country. You'll also discover several Buddhist shrines and temples. Accommodation varies from luxurious hotels with infinite beach views to bohemian colonial-era villas. The region charms travelers with a slow-paced rural ambiance and sleepy villages wrapped in a veil of simple beatitude.
Unawatuna is the most popular beach on the south coast. A pretty strip of sand with a remarkable rocky backdrop, the beach is famous for its calm blue waters and great snorkeling and diving conditions. If you're lucky, you might even spot a whale shark! The nearby town of Galle is a lively destination with plenty of fun activities for tourists who want to take a break from sunbathing. The town delights visitors with its beautiful architecture, as well as the Martin Wickramasinghe Folk Museum Complex, dedicated to the Sri Lankan culture.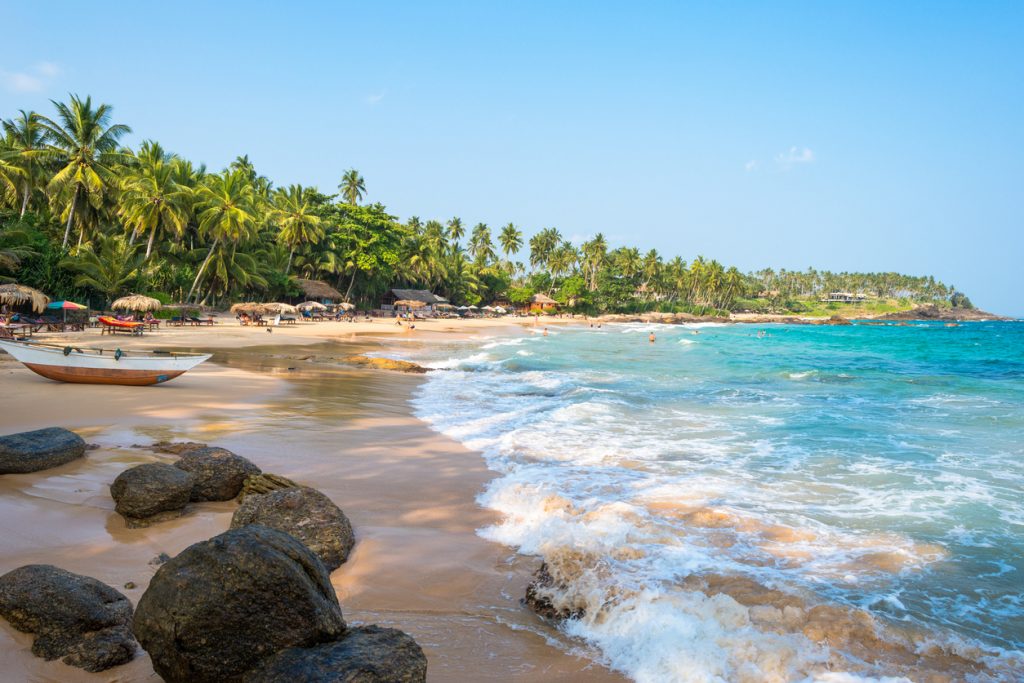 Untouched by over-the-top developments, Mirissa is a shy beach tucked into a small bay. It's a destination ideal to relax and take in the views. Ideal for swimming and surfing, Mirissa enchants visitors with sights of dolphins and whales, especially between the months of December and April. The many Ayurveda centers in Mirissa invite travelers to enjoy relaxing Ayurvedic massages. If you can spend a few hours away from the beach, you should book a river safari to discover the beautiful home of numerous migratory birds and water animals.
Tangalle is the epitome of a tropical beach. Fringed by palm trees swaying the in the gentle breeze and dotted with craggy promontories and peaceful coves, the beaches of Tangalle create an idyllic setting for the ultimate tropical escape. The inland attractions aren't any less remarkable. Tourists come here to admire a giant Buddha and intriguing shrines, to explore a bird sanctuary, and to discover an ancient monastery carved into a rock.
East coast beaches
The east coast is slowly but ambitiously recovering following the long civil war that ended in 2009 and the devastating 2004 tsunami and is no longer off the tourist trail. Its two major towns, Trincomalee and Batticaloa, are now vibrant and bustling with commercial activity, while the coast is undergoing major developments.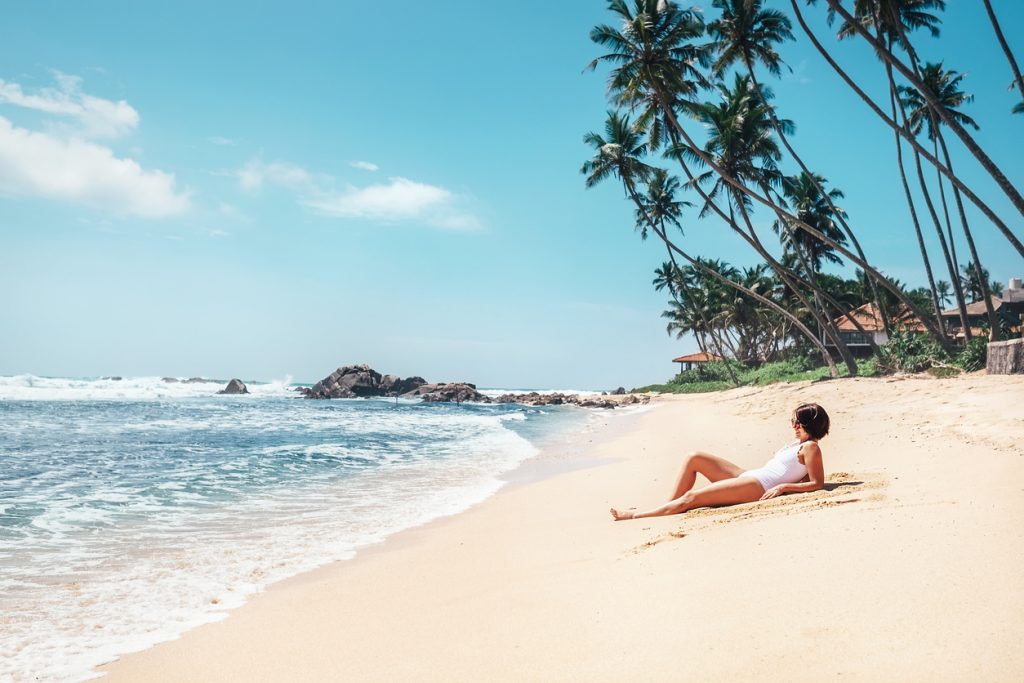 Arugam Bay awaits at the end of the east coast, an unspoiled beach known especially for the fabulous waves that attract surfers from all over the world. Despite its fame, the beach is still calm and has a laid-back vibe, perfect for long sessions of relaxation and sunbathing. No major hotel is disturbing the magical charm of this exotic corner of paradise, guests spending their nights in quirky guest houses and hip bungalows and cabanas. A lagoon tour takes travelers on a relaxing journey to the hidden treasures of Pottuvil lagoon, while a trip to the Yala National Park intermediates encounters with elephants and leopards.
Uppuveli is a shy village, home to one of the most beautiful beaches in Sri Lanka. The village invites travelers to discover the locals' lifestyle and authentic Sri Lankan cuisine. The villagers are welcoming and always happy to include visitors in their festivities. The beach is off the beaten track, the selection of hotels and guest houses is more than satisfying, and Swami Rock of Trincomalee is perfect for watersports, such as swimming, diving, and snorkeling.
If you liked this feature article you may also like to read this one: https://www.purevacations.com/relax-in-mauritius/