I know what you're thinking! Only the bravest can trek the Himalayas. Usually, people who spend half of their lives in the gym are probably the best candidates for Himalayan treks. This might have been true in 1953, when there was no such thing as trekking tourism there and the Everest was climbed for the first time. However, many have changed since then. And also, there is much more to the Himalayas than the Everest!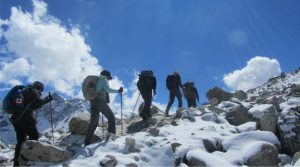 The Himalayas spread over 4,000 km, from Kyrgyzstan to Burma, 4,000 km of high peaks, deep gorges, and wild forests. This is where the high plateau of Tibet lies, while in the eastern Himalayas, in Bhutan and Assam, an Indian state, you will find one of the most spectacular biodiversity in the world. West of the Indus, the amazing Pamir, Hindu Kush and Karakoram mountain ranges await.
So, there's a lot more to do in the Himalayas than just climb the Everest! And don't think that it's too dangerous or you're not fit for such a challenge. There is wild trekking there, it's true, but there's also gentle trekking…and luxury lodges with breathtaking views and comfy guest houses, and plenty of culture to discover.
The people in the Himalayas have created an amazing diversity of cultures, and not many know about this side of the region. Yes, it's true that the Himalayas are wild, hostile and thus, barely populated, but this didn't stop people to find a way to live in harmony with nature. Moreover, these peaks bring together three major religions, Hinduism having a home to the south, while Islam is to be found in the west and Tibetan Buddhism to the north.
The beauty that lies beyond the Everest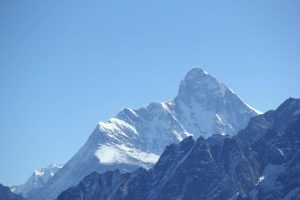 There are so many fascinating things waiting for you in the Himalayas that don't involve climbing the Everest! Moreover, new roads and airports make the area more and more accessible to tourists, creating a dynamic region that is no longer reserved to passionate climbers. It's true that is harder to travel to Tibet because of unrest and visa restrictions, but on the other hand the mountains situated along the northern border of Burma are now more accessible.
If you're not too ambitious and you don't want to climb the Everest or other high peaks, you'll discover that trekking is not very difficult in these parts. What will probably cause a few problems is the altitude and, of course, having to adjust to hygiene conditions that don't match the ones at home. But this is definitely not a deal breaker for those who are determined to trek the Himalayans. Your efforts will be rewarded with breathtaking scenery and memorable experiences.
Always have your itinerary set before heading to the Himalayas. This is not a destination where you can just wonder the streets and dive into the unknown. First of all, because there are not many streets in the Himalayas and the unknown is too vast to survive it. So, design your itinerary according to your interests. Do you want to find out more about their ancient culture or walk remote mountain passes? Are you traveling here to discover your spiritual side? Ancient monasteries are to be found in the Little Tibet and Ladakh. Choose Sikkim if you want to trek through lush forests or Garhwal if you want to admire the most spectacular mountain views you have ever saw.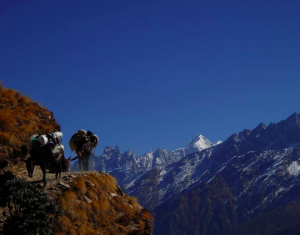 There's also the problem of when's the best time for trekking in the Himalayas. Considering that the summer monsoon is harsher in the eastern Himalayas than it is the west, you should probably plan your trekking adventure in India and Nepal between April and October. Everest and other popular treks have their higher number of guests in autumn when, even though is much colder, the skies are clearer. July and August are perfect for trekking in Zanskar and Ladakh, as well as for K2 and the rest of the Karakoram.Considering the popularity of trekking areas like Everest, the Annapurna region and Ladakh's Markha valley, you will have access to basic lodges for accommodation, the best choice for those who don't want to add a tent to their luggage or for those on a budget.
Trekking options for all fitness levels

If one of your ambitions is to trek the Everest and you feel that you're up for the challenge, you can take part at one of the treks organized by several trekking companies. They will lead the way and offer various packages that include lodging, camping and other benefits. Book way ahead because the world is filled with ambitious people!
Of course, these companies also offer packages that include less effort and more comfort, as well as visits of beautiful villages, such as Landruk and Ghandruk, transportation and guides. You can do the gentle trekking experience or the wild trekking one, either way you will enjoy your trekking adventure in the Himalayas. You can even bring your kids with you, Nepal being a great destination for the entire family and offering you the chance to combine a trek with a visit to Chitwan national park, where you can ride elephants and see wildlife.
Regardless of your itinerary, make sure you're not very ambitious with your deadlines. You need time to acclimatize and adjust to the environment, discover the villages along the way, where you'll probably be invited to take part at certain celebrations and just take in the views. And, if one thing is sure, it's that one trip is never enough if you want to master trekking in the Himalayas.