A vast land dominated by infinite desert plains, rugged mountains, and craggy gorges, the Red Centre is an incredible destination characterized by astounding purity and vitality.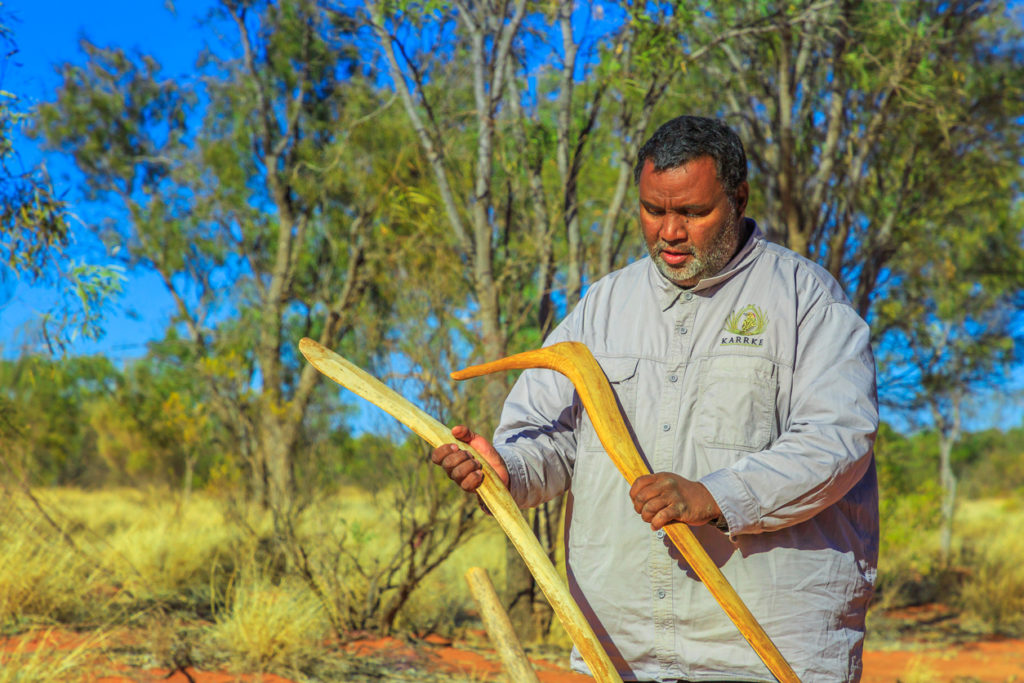 The expansive landscapes are impossible to cram into one single journey of exploration and force travelers to switch off and embrace nature's greatness. Everything here is super-sized and overwhelming. Outback Australia is a land that doesn't make any compromises and welcomes you with a raw force of life.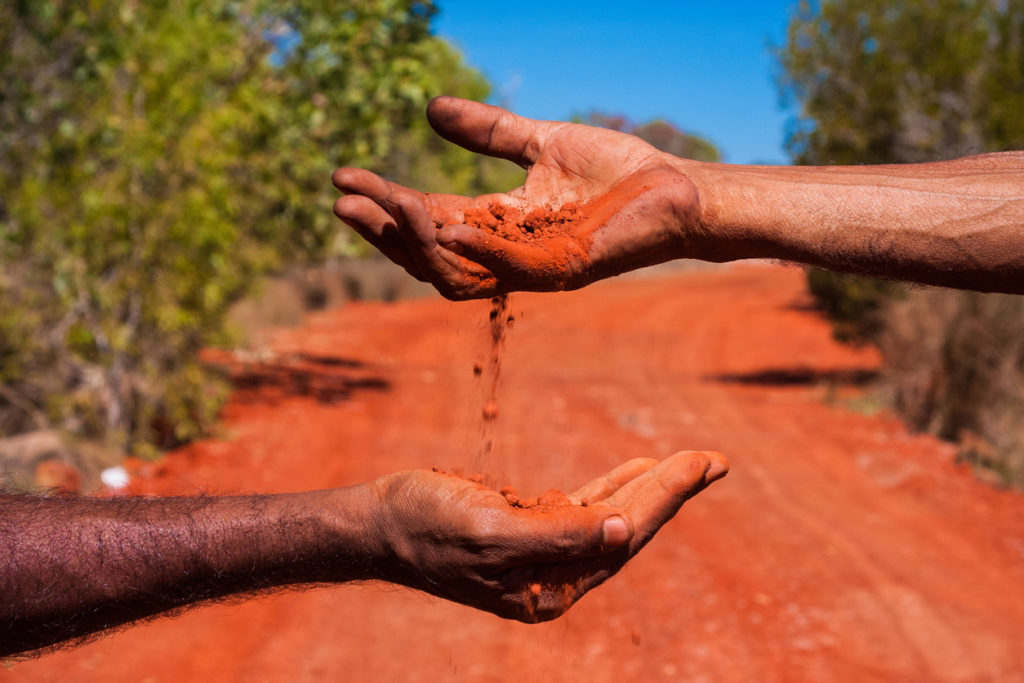 The Red Centre is the home of Australia's Aboriginal people, their traditions being captured around the mighty Uluru and Kata Tjuta. However, there are many other sacred sites in this region, nestled in gorges, dry riverbeds, plains or mountain ranges. Wildlife is diverse and fascinating in the Red Centre, with plenty of kangaroos, wild camels and donkeys, dingoes, and brumbies keeping visitors on their toes.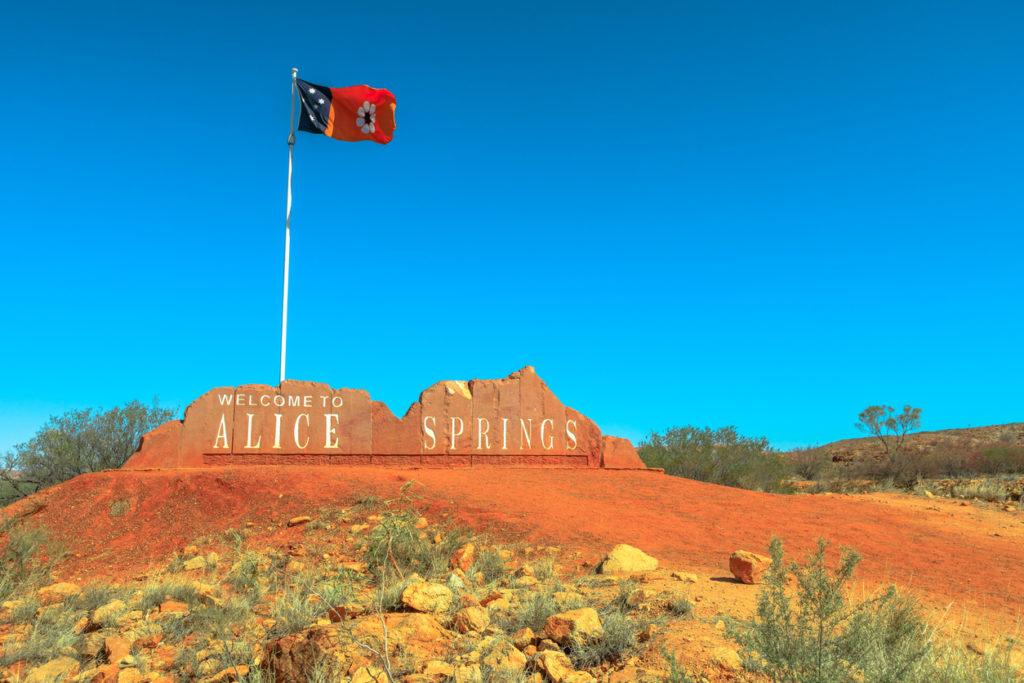 Explore the cosmopolitan Alice Springs
One of the main areas of interest in the Red Centre is Alice Springs, the region's capital, flanked by the fascinating Eastern and Western MacDonnell Ranges. Alice Springs invites visitors to discover its history at the Telegraph Station and admire Aboriginal art at the Araluen Arts Centre. From here, you can bike to Simpsons Gap, a sacred waterhole guarded by imposing cliffs, or you can tour the Standley Chasm, a superb red rock gorge. Don't miss a visit to the Alice Springs Desert Park, the best wildlife park in outback Australia. Enter the world of kangaroos, birds, reptiles, and discover the Australian party animals inside the Nocturnal House.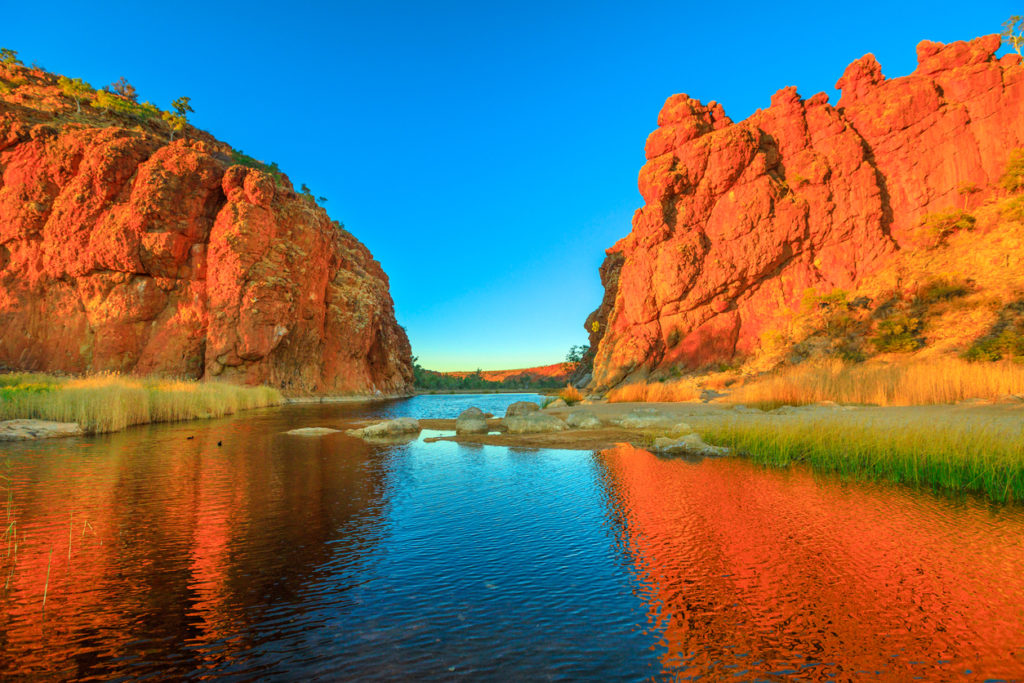 Relax in a waterhole in the West MacDonnell Ranges
A trip to the West MacDonnell Ranges, west of Alice Springs, will prove once and for all that the Red Centre is not entirely flat. It's a fantastic landscape dotted with intriguing peaks, frowned gorges and inviting waterholes. Ormiston Gorge creates the setting for a spectacular walk that will take you around the gorge and pamper you with superb views and a refreshing swim in a lovely waterhole you'll discover at the end of your trip. If you want, you can spend the night in a campground at the foot of the gorge or at the Glen Helen Resort. Glen Helen Gorge slices through the mountains and reveals a dramatic rocky scenery, while the Finke River cuts through the gorge nonchalantly and creates a cold waterhole, ideal for a refreshing swim.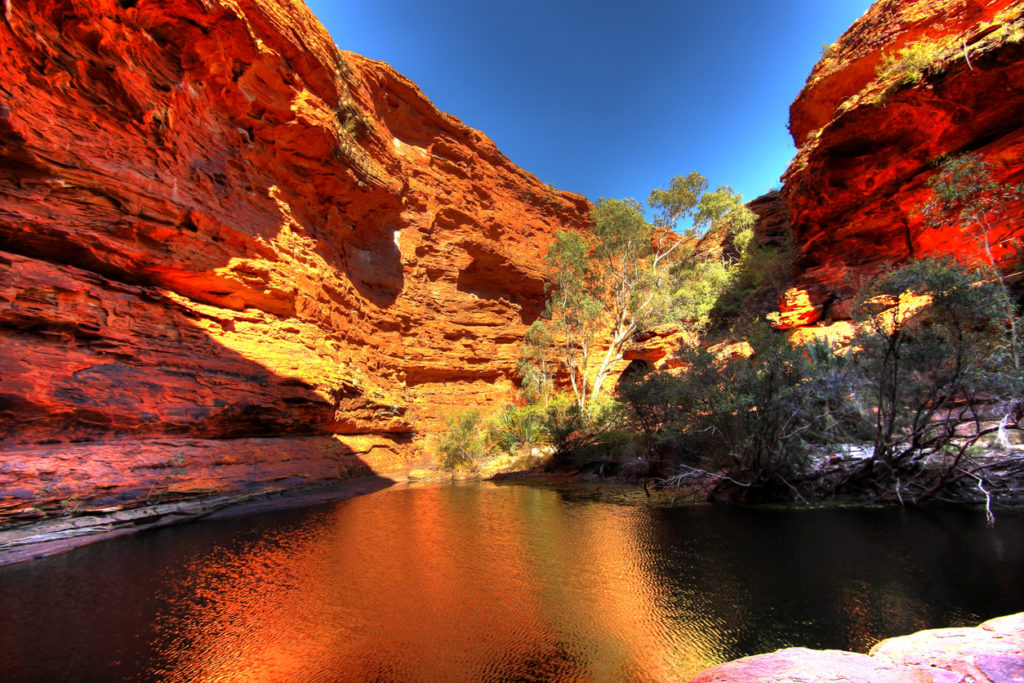 Delve into Kings Canyon's depth
At first glance, Kings Canyon seems to bury itself into the Red Centre, creating the illusion of an infinite depth. It's enough to admire its staggering walls, so steep and sharp that even the trees seem to barely be holding on to their roots, to suddenly feel a little dizzy and breathless. Just a peek over the edge and you'll feel everything turning upside down and going round and round. If you have time for only one walk at Kings Canyon, choose the Kings Canyon Rim Walk, a 4-hour challenging route that will reward you with spectacular views across the rugged bluffs and gorges of Watarrka National Park.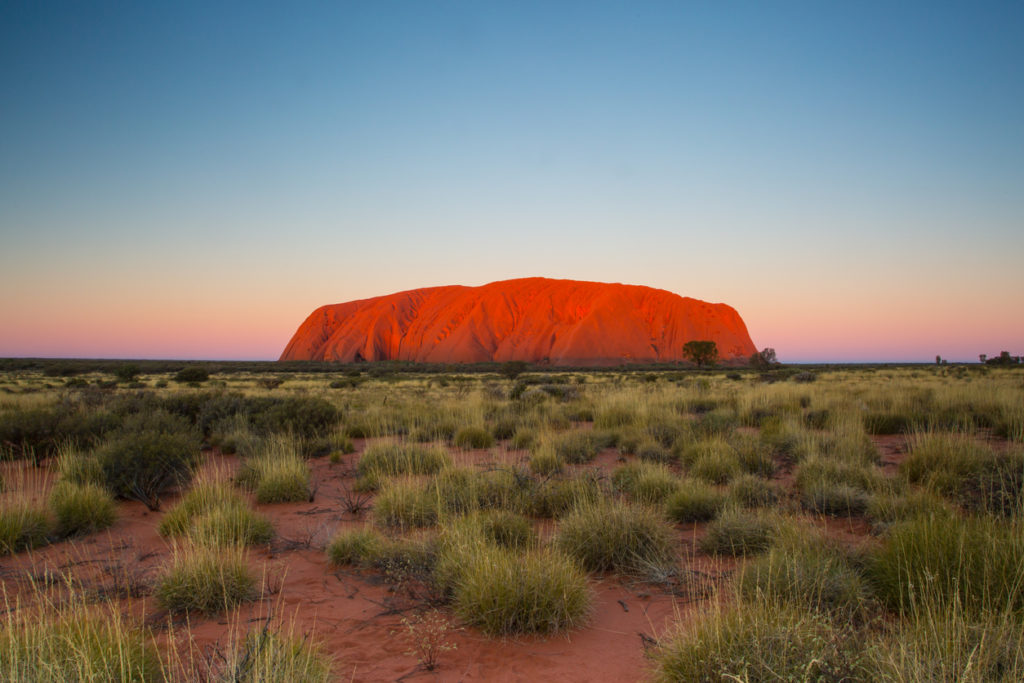 Witness Uluru's metamorphosis at sunset
The superstar of the Red Centre, Uluru is one of the sacred sites of Australia's Aboriginals and one of the most visited attractions in the region. This means the "sunset" parking is often crowded but this doesn't interfere with the breathtaking painting created in front of you. Uluru changes colors gracefully whenever the sun rises or sets and creates a memorable panorama. If you don't want to share these magical moments with the tourist crowds, you can always choose a helicopter tour or a camel safari that will take you closer to this majestic rock.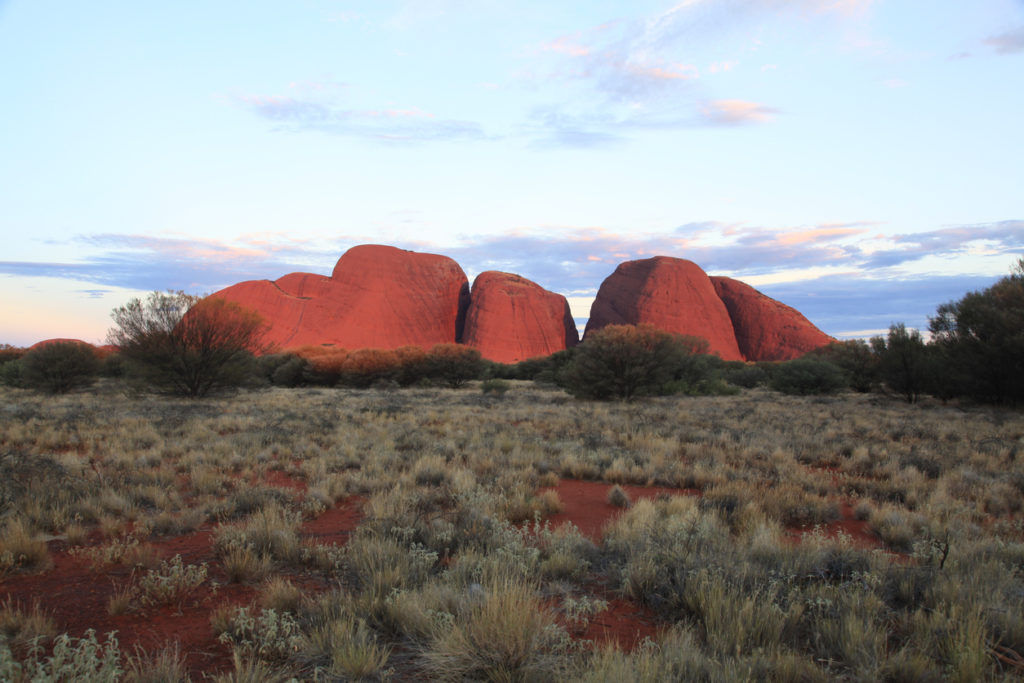 Discover the 36 rounded domes of Kata Tjuta
Situated only 50 km from Uluru, Kata Tjuta is as phenomenal and overwhelming as the famous mammoth monolith. Sharing the same National Park, Kata Tjuta is a fascinating series of smaller giant rocks that seem to be disturbing the serenity of the flat land that surrounds them. The contrast is spectacular, especially at sunset, when everything seems to come to life. This captivating collection of rocks hides an abundance of gorges and chasms that await to be explored. There are three main walks at Kata Tjuta, each with its own level of difficulty, many preferring the Walpa Gorge walk, a 2-km route that takes them to a desert refuge for plants and animals.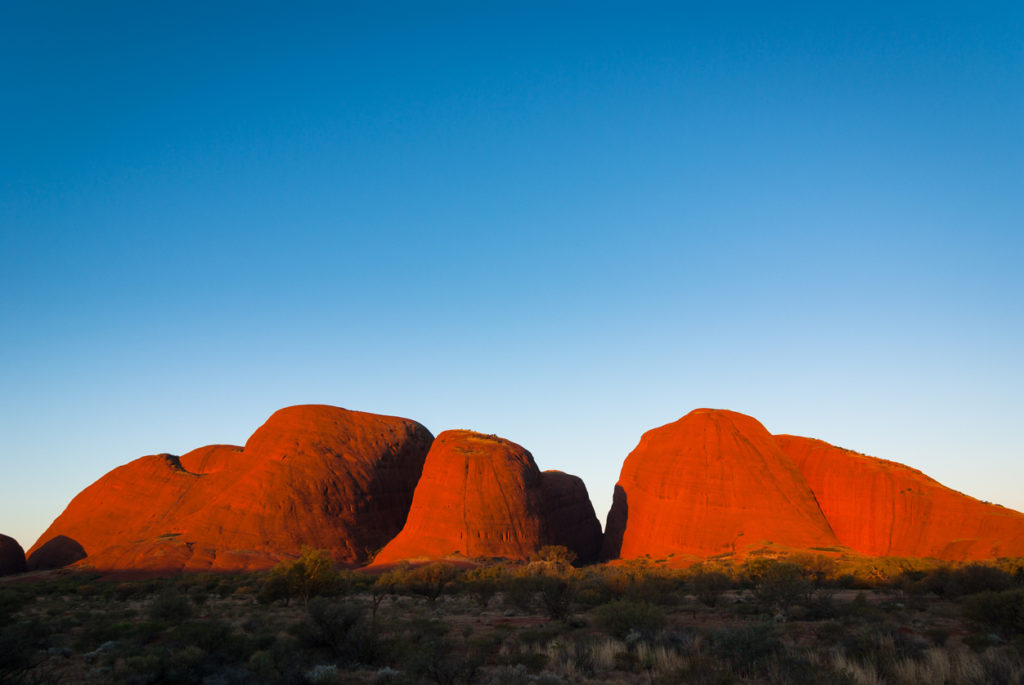 Whether you're floating in an outback waterhole, star gazing in a camp or witnessing the surreal color changes of Uluru, you'll experience a mesmerizing and unforgettable journey in the universe of the fantastic Red Centre.