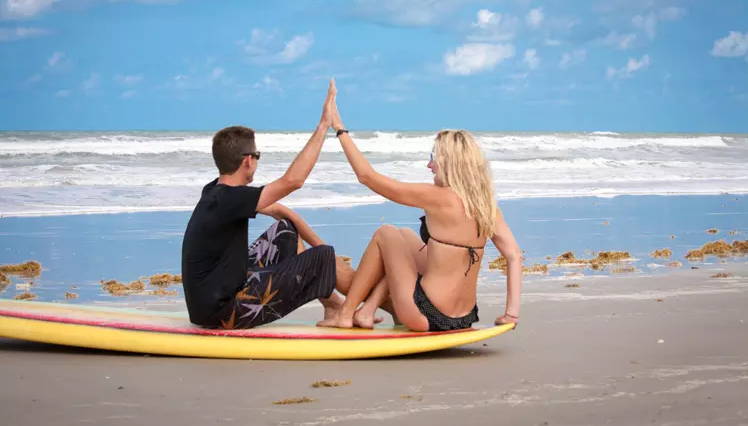 You don't need to be a space aficionado or even an explorer to find the Space Coast in Florida to be absolutely fascinating, intriguing and fun.
The Space Coast is about the Kennedy Space Center and a few museums dedicated to history and science, thus its name, but it's also about endless strips of white sand, surf culture, tiki-hut bars and wildlife. Basically, the land of Old Florida is a destination where both the brain and body encounter plenty of challenges and fun things to do.
Stretching over 72 miles along the Atlantic, the Space Coast awaits visitors of all ages. You will find here miles of beautiful beaches, a labyrinth of waterways, as well as all the wilderness areas you might need to get away from it all. The Space Coast also is a mecca for surfers, its swells and tubes keeping them busy for many days.
Space is the limit when it comes to fun activities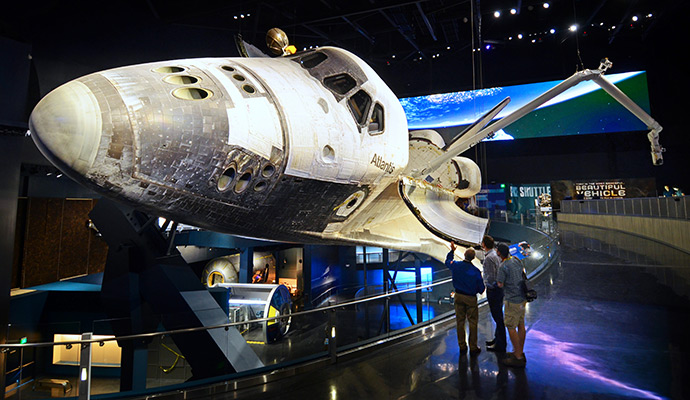 The Space Coast gravitates around the Kennedy Space Program, the place where it all began. There are monthly launches now at Cape Canaveral, with SpaceX and United Launch Alliance keeping busy sending their astronauts into space. You can even see live launches, if you happen to be there at the right time. Space exploration is always fun, at least for me, and what better place to find out about spaceflights or even experience one, in one of the most realistic spaceflights simulators in the world, if not the Kennedy Space Center. I just loved that I could see the Space Shuttle Atlantis up close and actually talk to an astronaut, who was funny and had amazing stories to tell. Kennedy Space Center is like an amusement park, with a serious vibe, so bring your family here! They will love it! Even the grumpy uncle.
However, don't think that once you get back on Earth, things get less interesting! Not even close! There are so many beautiful towns that await along the Space Coast, oasis of relaxation and fun, such as Cocoa Beach, Palm Bay, Titusville, and Melbourne, not the Australian one!
I really enjoyed Cocoa Beach, a perfect family destination, but also a great place for group of friends to enjoy the sun, the beach and a visit to the largest surf shop in the world. While some of my friends rode the waves and were in awe with Ron Jon's, the surf shop I was telling you about, I was satisfied with just being lazy on the beach and admiring the famous pier. In the evening, we strolled the streets of the Historic Cocoa Village, a melancholic riverside community, where everybody found something fun to do: some shopped, others visited art galleries, and all enjoyed all the seafood we wanted and a homemade six-layer cake – okay, the cake was all mine!
Embrace the wilderness and enjoy the silence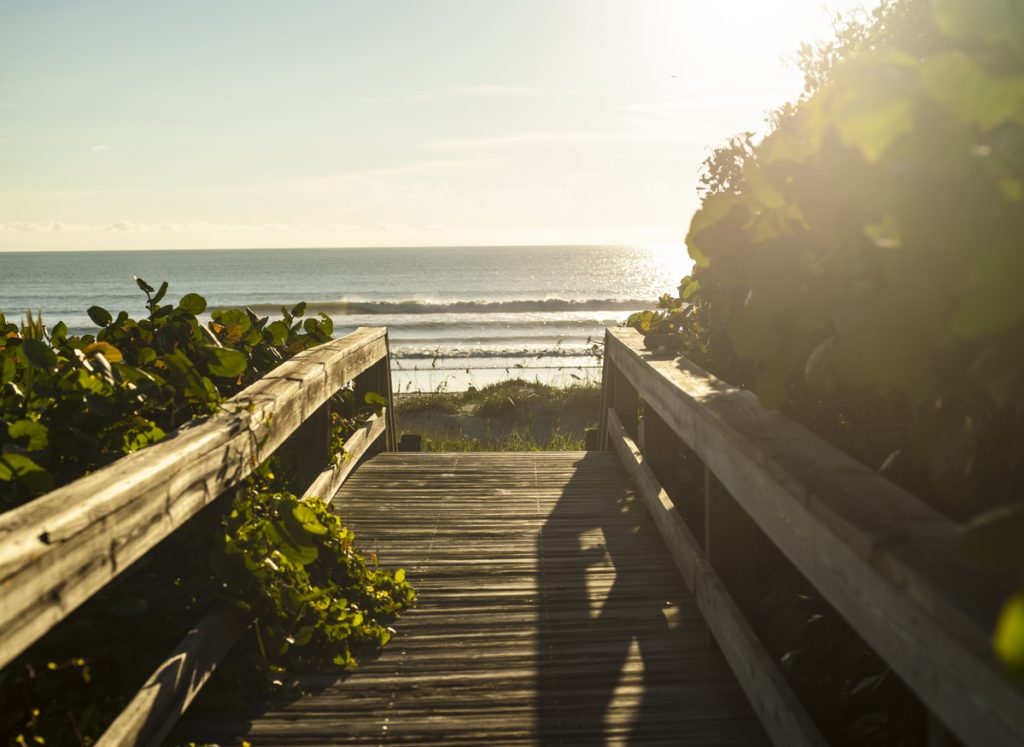 This part of Florida is all about eco-tourism. It has a superb wildlife refuge, as well as sanctuaries and parks. However, the pièce de résistance in this department is undoubtedly the sea turtle nestling phenomena, a magical thing to see. You can see the sea turtle nestling during an evening beach walk, but only from May through October. This is when the turtles deposit their eggs. Don't think that anyone who walks around their grounds is going to see them up close. They are protected and carefully managed by conservation groups, so it's best to join a guided walk to witness this magnificent experience. To be sure you're going to spot some sea turtles, head to the Melbourne Beach Barrier Island Sanctuary, a haven for Loggerhead sea turtles.
Searching for a plus of adrenaline rush and a more active experience? Kayaking is the best idea for you! It was for us too! We headed to Titusville and joined a kayak tour in the evening to capture the magical bioluminescence. In simpler words, we saw the water sparkling with emerald flashes, a work of art created by really tiny organism that glowed when we stirred them up.
If you're into fishing (congrats for the tons of patience!), then you will be happy to discover here an authentic fishing camp. Situated south of Melbourne Beach, on the Indian River Lagoon, Honest John's Fish Camp is honestly a great place for fishing, or so my fishermen friends told me. They rented a boat and spend a few nights there, but you can also rent a kayak or canoe, if you want to.
Bird watching, another patience demanding activity, is quite popular around this region, especially since the Space Coast is famous as a birding location. You can visit the Merritt Island National Wildlife Refuge or, if you want to add a touch of adventure to the experience, take a kayak ride in the Refuge. There are more than 300 species of birds living here, so you will definitely be busy for a while.
We really enjoyed our trip to the Space Coast and our beach experience there. It can get crowded at times, especially the beaches, but remember our "off the beaten path" strips of sand and you'll be fine: Melbourne Beach's Ocean Avenue, Juan Ponce de Leon Landing Park and the pristine, wild Canaveral National Seashore, situated east of Titusville.