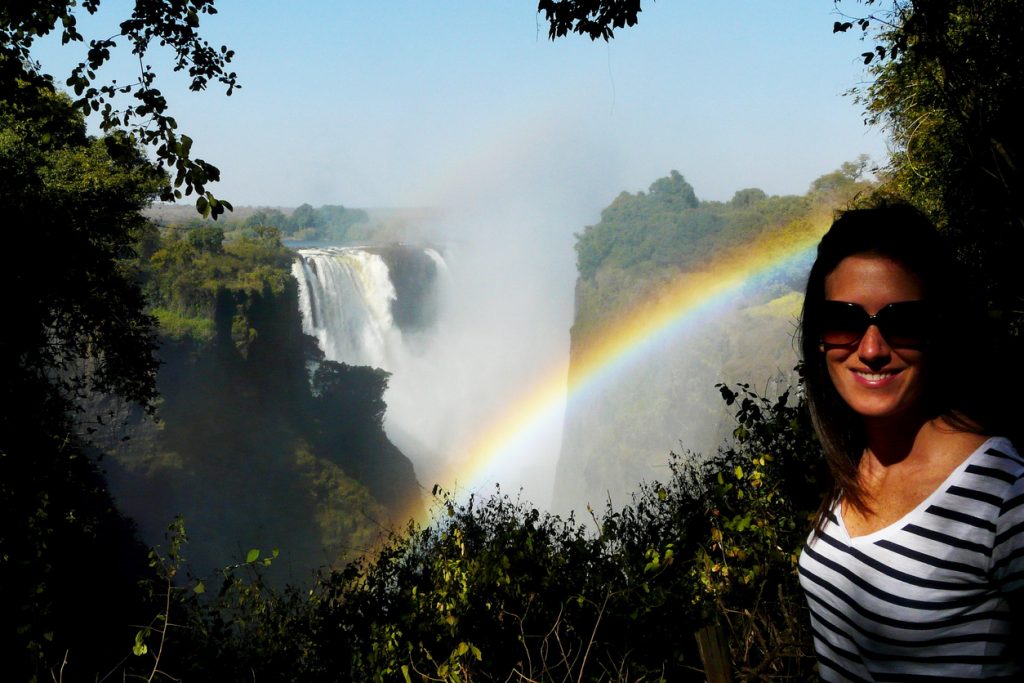 Each Zimbabwe safari experience can be different. Travelers who embark on such an adventure return home with fascinating and unique stories to tell, depending on the time of the year, the location of the camp, and their encounters and preferences during the safari. This country is like a maze of sublime experiences but all roads lead to one common conclusion: there's no place like Zimbabwe.
Bordered by two rivers, the Zambezi River cuts along the northern border, while the Limpopo creates the southern frontier of the country. Between them lies a land of surreal beauty and amazing adventures, a plateau filled with kopjes (granite outcrops), rugged mountains, lush forests, and wonderful national parks. Despite the abundance of incredible things to discover, Zimbabwe is quiet and modest, untouched by mass tourism and consumerism.
Many come here to witness the majestic Victoria Falls, one of the seven natural wonders of the world, but as soon as they get here, they fall in love with the scenery and crave to discover the many other fascinating experiences Zimbabwe has to offer. Whether it's a game drive in Hwange National Park or a canoe safari in Mana Pools National Park, visitors have access to spectacular activities in Zimbabwe.
Hwange National Park
Zimbabwe is known as one of the most rewarding big game safari destinations in Southern Africa. Its experiences are authentic and genuine in rugged destinations, usually off-the-beaten-track. This is where game viewing is memorable and the experiences unique. Most safari tents in Zimbabwe are not as decadent and luxurious as in other parts of the world, but they provide a comfortable stay and fresh traditional cuisine. However, if you insist on booking an extravagant safari experience, there's no better choice than the luxurious Somalisa Camp in Hwange National Park, a place where elegance meets luxury and… a spa-like bathroom.
Hwange National Park is the most popular park in Zimbabwe, located a short drive from the legendary Victoria Falls, and a fabulous home to lions, elephants, leopards, buffalo, antelope, zebras, giraffe, and, of course, hyenas. It's also the largest game park in the country with an area of 14,600 km2, blessed with outstanding scenery, flora, and fauna. If you don't necessarily need an extravagant setting for your stay, the tented rooms at Makalolo Plains Camp provide a comfortable experience with en-suite bathrooms and a pool for guests to use. Set in a beautiful natural décor, with huge expanses of bush, open plains, and palm trees, and overlooking a floodplain, this camp provides superb opportunities for wildlife-spotting, as well as game drives and walking safaris.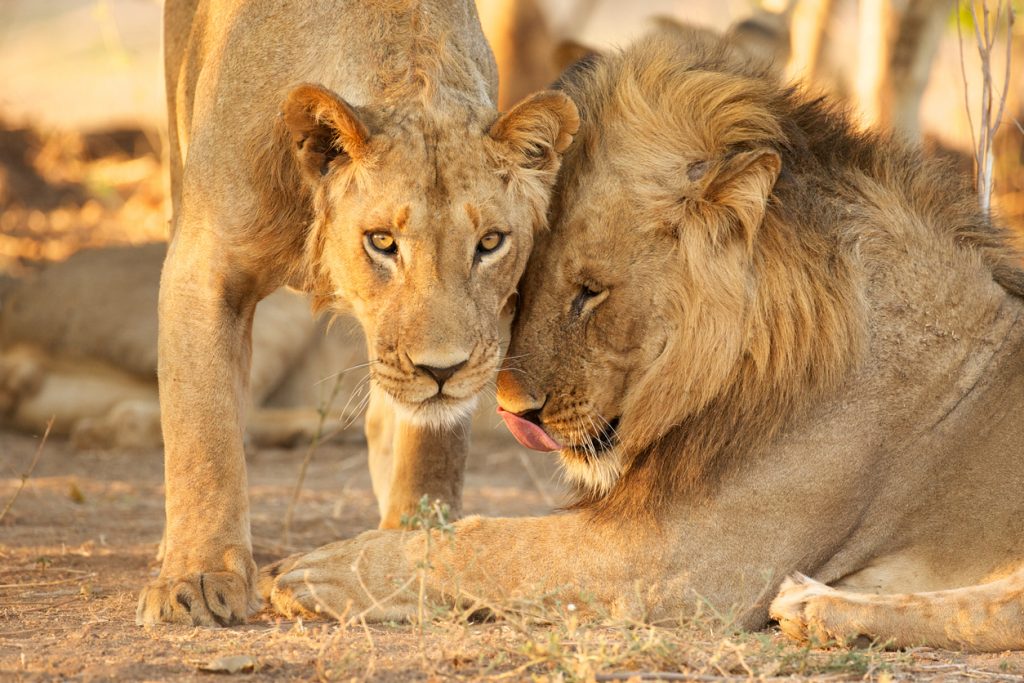 Mana Pools National Park
When you're getting closer to the mighty Zambezi River and stepping on the lands of Mana Pools National Park, you can expect to encounter hippos and crocodiles, as well as impressive oxbow lakes that have created four large pools adorned with lush vegetation and are often visited by big game. A safari experience here awaits with game drives, walking safaris, and canoe adventures on the Zambezi River.
You can set your base at Vundu Camp, a small but reputable camp on the banks of the river and in the heart of the national park, at Ruckomechi Camp, a riverfront camp in the north-west corner of Mana Pools National Park that enjoys scenic views and a touch of luxury, or at Kanga Bush Camp, situated in a remote part of the land, only 15 km away from the Zambezi River, that creates a comfortable setting in a secluded corner of Zimbabwe.
Victoria Falls
No safari experiences in Zimbabwe is complete without witnessing the marvelous Victoria Falls, formed where the Zambezi drops 100 m into a narrow gorge. You'll hear her roar from the road but you'll never be able to picture its breathtaking magnitude until you meet her face to face.
The small town nearby, also Victoria Falls, is a crossroads for visitors who can set their base here and take part at many of the adventurous experiences available in the region. From canoeing and rafting to flights over the falls and bungee-jumping, adrenaline junkies will feel spectacular in these parts of the world.
You can book a room at the friendly Ilala Lodge to enjoy a pleasant stay and access to a pool, restaurant, lounge, and really good food, or you can go big and stay at one of the 9 luxurious tented-chalets at Elephant Camp, just 10 minutes from Victoria Falls, that comes with luxury amenities and a private plunge pool.
Matusadona National Park
Matusadona National Park is not as popular and accessible as the other parks in Zimbabwe, but it's definitely worth the trouble to fly there to set your base on the shores of Lake Kariba. This is one of the greatest man-made lakes in the world, attracting a vast population of rhinos, crocodiles, and elephants. Moreover, the park is home to the big five, including the black rhino, and has an exceptional birdlife. This is a fantastic destination for boat and canoe trips, as well as safari walks and drives.
Whether you'll stay at Spurwing Island, a simple location with 20 en-suite rooms, a pool, a bar, and a dining area, or at Bumi Hills Safari Lodge, privately-owned and completely renovated, where you'll have access to 20 rooms with balconies over the lake, you'll have the chance to enjoy walking safaris, game drives, canoeing, boating, and, in general, a fantastic ambiance.
Gonarezhou National Park
Adventurous and romantic, especially since it's set in a remote décor, Gonarezhou National Park and Malilangwe Wildlife Reserve create a splendid setting away from it all. The park has a prolific birdlife, being home to about 400 bird species, as well as big cats and fabulous elephants. Dominated by unspoiled wilderness and majestic forests, and perfect for game viewing, this area is the second largest national park in Zimbabwe.
No traveler will want to miss the gorgeous red sandstones Chilojo Cliffs or the adventurous 4WD game drives and walking safaris. Chilo Gorge Safari Lodge is a great place to spend a few nights and admire the superb views over the Save River in an elegant setting.
Matobo National Park
Even though Matobo National Park is smaller and less popular than the other parks, this doesn't mean it's less beautiful. Dotted with granite boulders and rocks that have been canvas for San (Bushman) art, this land is ideal for long walks accompanied by breathtaking views illustrating a rugged landscape. The park is home to the largest concentration of leopard on the continent and to a big population of black and white rhino. For a comfortable safari experience and fun safari activities, you can choose to stay at Amalinda Lodge. This cozy and stylish lodge is set in a splendid location and decorated with flair, respecting the authentic traditions and incorporating its natural surroundings. A great starting point for rhino tracking but also for gentle safari activities that respect the silence.