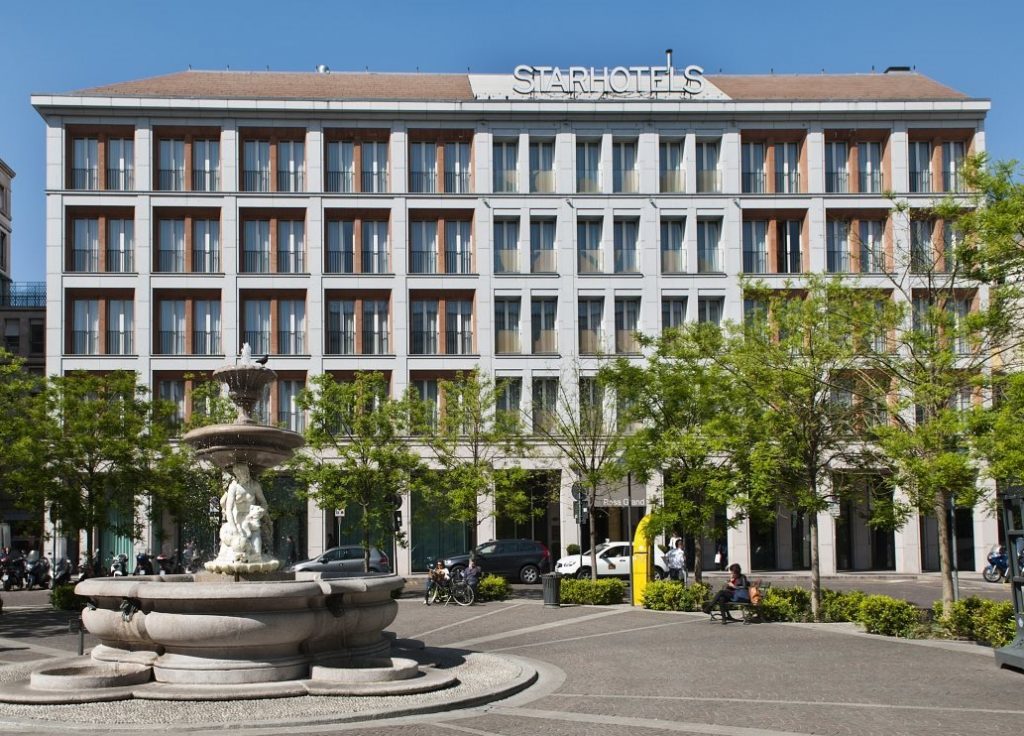 Pure vacations had the luxury of staying in this perfect location hotel recently and enjoying the delights it offered for a city break in Milan.
This interior design masterpiece dressed in shades of grey and golden awaits elegantly behind Milan's grand Duomo. Encapsulating three buildings into its grandeur, including part of a former convent built in 1906, Rosa Grand Hotel sits tucked away on quiet Piazza Fontana, framed by three pedestrian streets. Aware of its beauty and class, the hotel nonchalantly attracts guests with its splendid Italian furnishings, luxury amenities, and attentive and professional staff. Guests enjoy easy access to some of the most famous attractions in Milan, like Galleria Vittorio Emanuele II, the Duomo, and the Museo del Novecento, as well as to numerous high-street shops.
Amenities
The sleek Rosa Grand Hotel, run by the Rosa family since after the Second World War, mesmerizes its guests the moment they enter its lobby. Equipped with 330 rooms, the hotel is adorned with a maze of corridors that lead to luxury rooms and suites ready to provide a relaxing and comfortable stay.
Guests enjoy access to a fitness center and a wellness center, where they can unwind in a Turkish bath or at the solarium. When the weather is balmy and warm, guests sunbathe on one of the deckchairs awaiting on the hotel's terrace. Often a choice for business guests, the hotel has six meeting rooms equipped with state-of-the-art equipment and two conference rooms that can accommodate up to 300 people.
Between business meetings and during break times, guests can relax in the exclusive Golden Lounge where they'll have access to business desks and television, as well as to an on-going buffet. Access to the Golden Lounge is free for guests staying in Junior Suites or Suites.
Dining
The restaurants and bars at Rosa Grand Hotel add to the refinement and sophistication of the hotel. The menus are eclectic and innovative, classic Italian dishes being served with a contemporary twist. Due to the hotel's successful collaboration with the famous food emporium Eataly, the gastronomic experience at Rosa Grand Hotel matches the splendid décor and flawless service.
Days start at Roses by Eataly, with a generous buffet breakfast that includes everything from eggs and bacon to fruits and pastries, and continues with lunch and dinner at Sfizio Restaurant. The restaurant serves traditional Italian specialties, focusing on meat and fish dishes, in a stylish and smart setting.
Guests who want to delight their taste buds with pizza have access now to a brand new pizza area. Roses Pizza & More surprises visitors with a vast selection of gourmet pizzas and typical Italian treats, like piadine, arancini, and salads. If there is one place where pizza goes perfectly with champagne, it's the Roses Pizza.
Pre- and post-dinner drinks can be enjoyed at the elegant Grand Lounge and Bar, where the menu also includes light dishes, like salads, club sandwiches, and hamburgers. The hotel's signature cocktail, "Il Milanese" is a must-try during a stay at Rosa Grand Hotel, especially since its formula that brings together saffron gin, vermouth, and sugar syrup, reminds guests of the aristocratic Milan and matches perfectly the noble décor.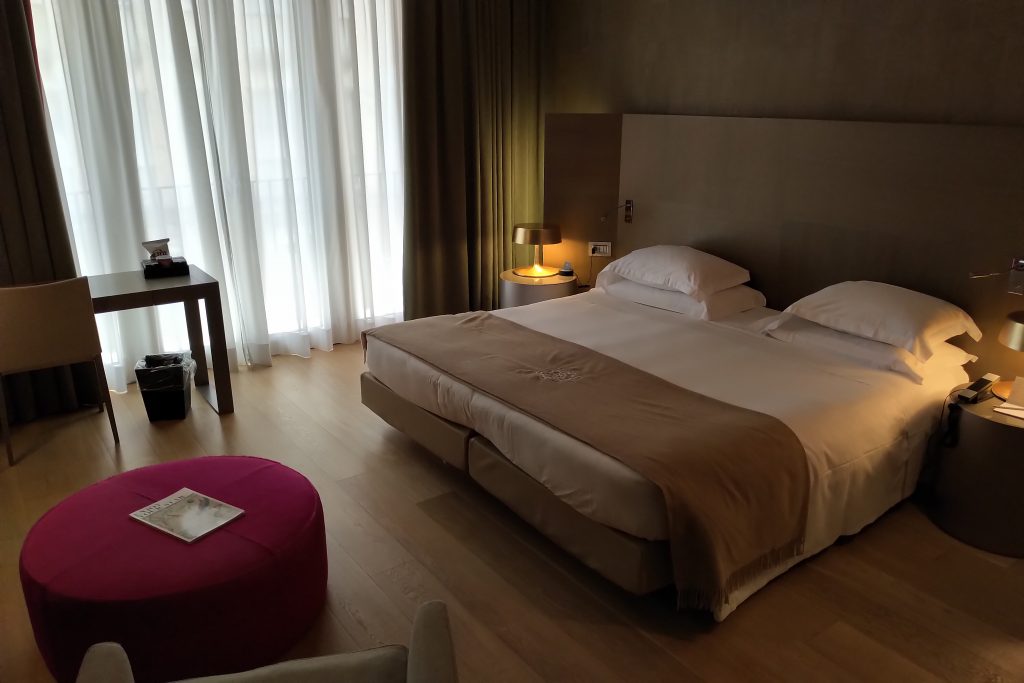 Rooms
Rosa Grand Hotel welcomes guests with 330 rooms and suites, all dipped in luxury and dressed in a refined selection of colors, like peacock blue, gold, sage green, and ivory. If you follow the labyrinth of corridors, you'll discover three types of rooms that boast three different styles.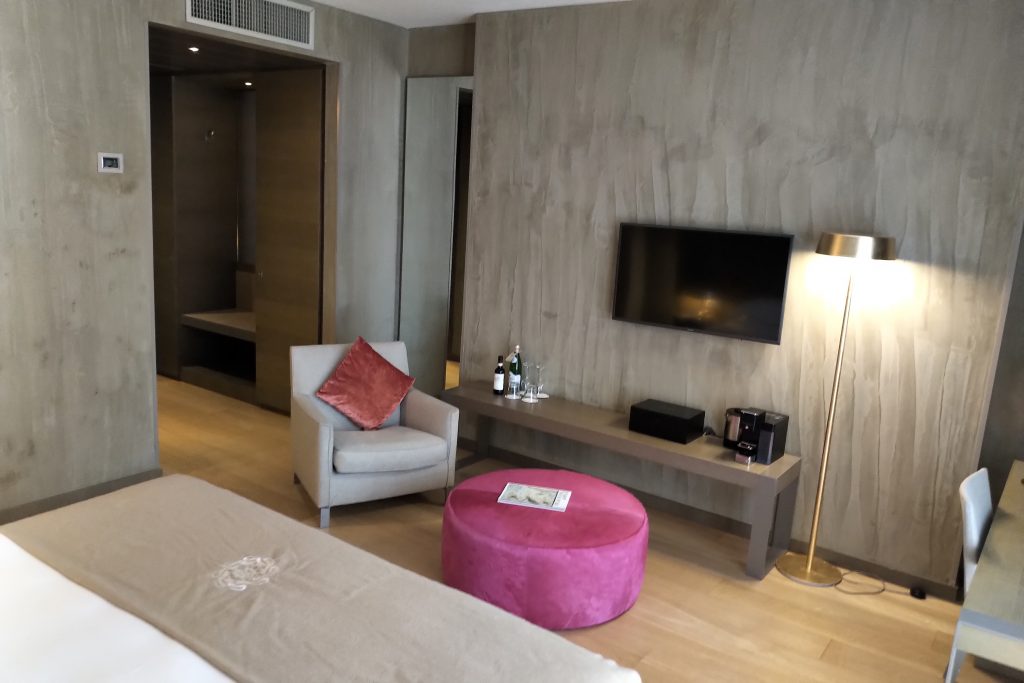 While the classic rooms are decorated with cherry wood floors and dark furnishings, the refurbished rooms enchant guests with a contemporary aspect enriched with oak wood floors, Italian marble bathrooms, and relaxing, neutral tones. Suites are more spacious and luxurious, dressed in mellow tones with colorful accents shaped as poufs and photographs.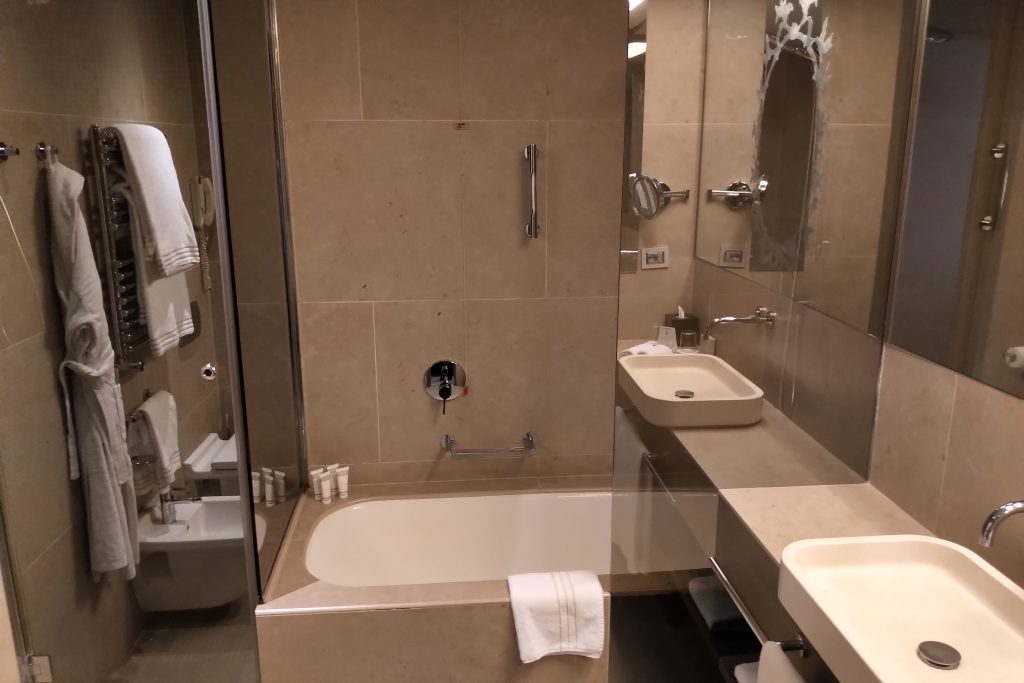 The most popular choice for guests who choose to book a room at Rosa Grand Hotel is the Deluxe Room, an oasis of relaxation away from the hustle and bustle of the city that combines modern amenities with chic design touches. The room is adorned with oak floors and contemporary Italian furnishing, inviting guests to enjoy its warm elegance and cozy ambiance. Each Deluxe Room has its own marble or porcelain stoneware, as well as a minibar and smart TV, and some rooms offer views over Via Pattari.
Deluxe Room amenities:
double bed
wardrobe or closet
flat-screen TV
satellite channels
coffee machine
electric kettle
air conditioning
heating
safety deposit box
telephone
minibar
shower
hairdryer
free toiletries
slippers
bidet
free WiFi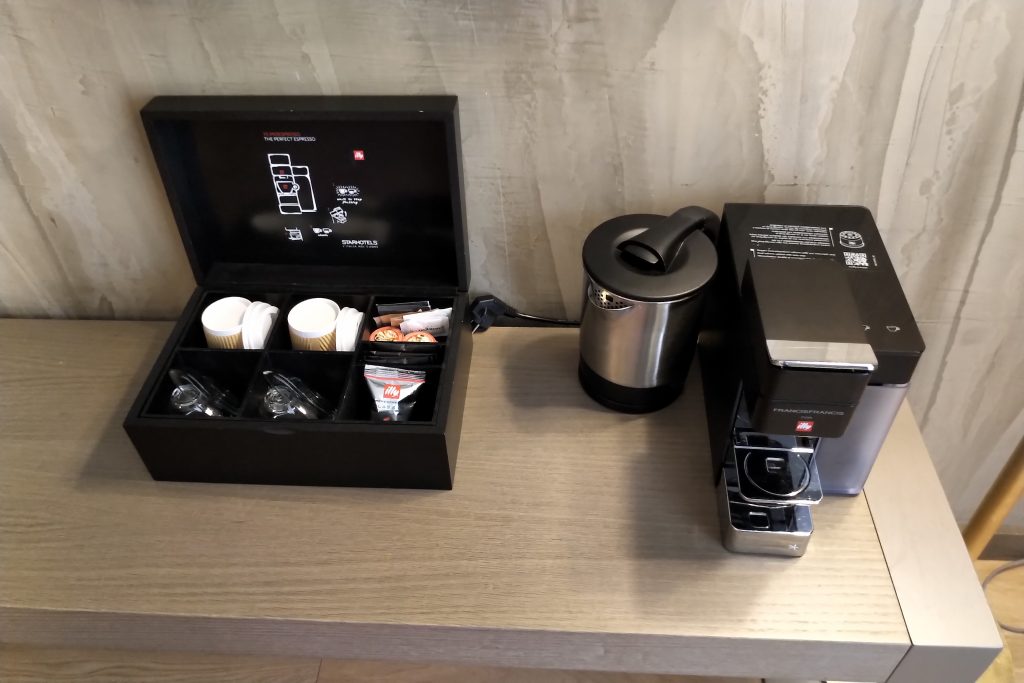 Despite its sleek and business-oriented atmosphere, Rosa Grand Hotel is the perfect base to explore Milan for families with kids. Their V.I.K (Very Important Kids) Family program creates a fun and entertaining atmosphere for kids of all ages that will be pampered with access to various gadgets and services designed just for them. The hotel boasts gorgeous Family Rooms and offers complimentary meals for children under 3.