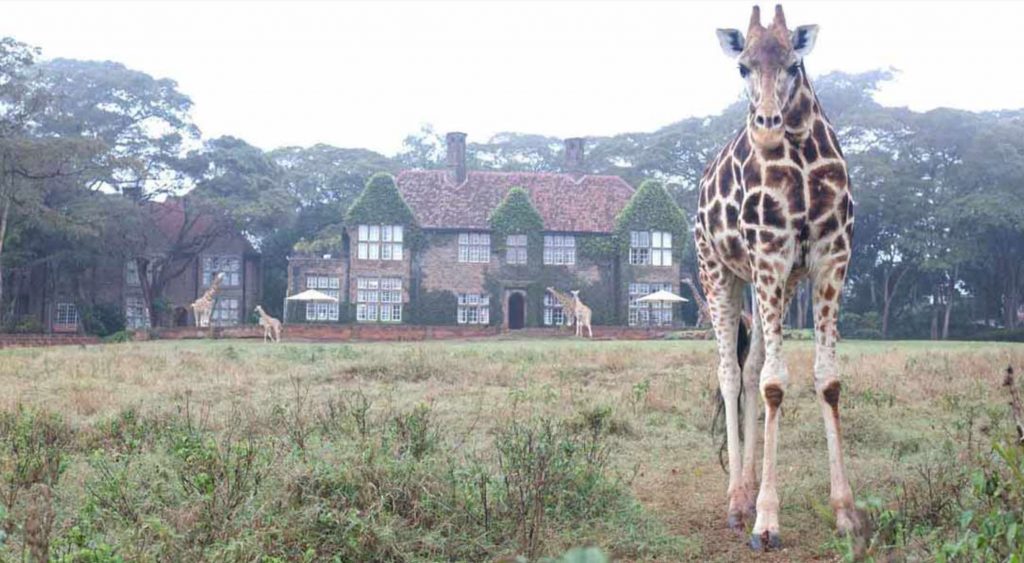 When you're booking a room at the Giraffe Manor, Kenya, you're not only booking accommodation in Kenya! You're booking an extraordinary experience. Set in a superb scenery, on a 12-acre private land, part of a 140-acre indigenous forest near Nairobi, this restored 1930s mansion dressed from head to toes in vines is a boutique hotel like no other. And we're not talking only about its gorgeous 12 rooms, each with its own charm and character, but also about its main residents: the giraffes. It's not called the Giraffe Manor just for the sake of it!
A stay at the Giraffe Manor offers the unique experience of having breakfast or afternoon tea in the company of beautiful giraffes. While they are not allowed inside for the obvious reasons, they do poke their heads inside to make your acquaintance and grab their share of grass pellets. Animal lovers needn't worry! The giraffes are living at the nearby Giraffe Center, a sanctuary meant to protect the Rothschild giraffe. They are very well taken care of, especially since guests at the Giraffe Manor are always happy to delight them with treats. Needless to say, the Giraffe Manor is not only a superb honeymoon destination and a gorgeous stop along the way to a safari experience in Kenya or Tanzania, but also a property that welcomes children and those young at heart.
Services
Inspired by Scottish hunting lodges but adorned with a lot more luxury touches, this quaint hotel dates from 1932 and has kept intact much of its initial charm and ambiance. It belongs to The Safari Collection that has several luxury resorts in Kenya, but continues to be a family-owned structure. Both the indoor and outdoor common grounds create an idyllic atmosphere for a relaxing holiday. The elegant sitting room is perfect for tea time and is adorned with large windows that invite the afternoon sun in, while the lovely verandah and terraces are ideal locations to feed the giraffes and admire the beautiful Ngong Hills.
Despite its luxury label, the Giraffe Manor will make you feel like you're staying at a friend's house due to its intimate interior and friendly staff, always ready to make your stay as comfortable as possible. You won't find a pool or a fitness center, but you'll certainly enjoy some of the most unforgettable moments of your life in the company of welcoming people and curious giraffes. And, if you want a massage, the hotel has a lovely spa center and massage therapists on site ready to sooth what aches.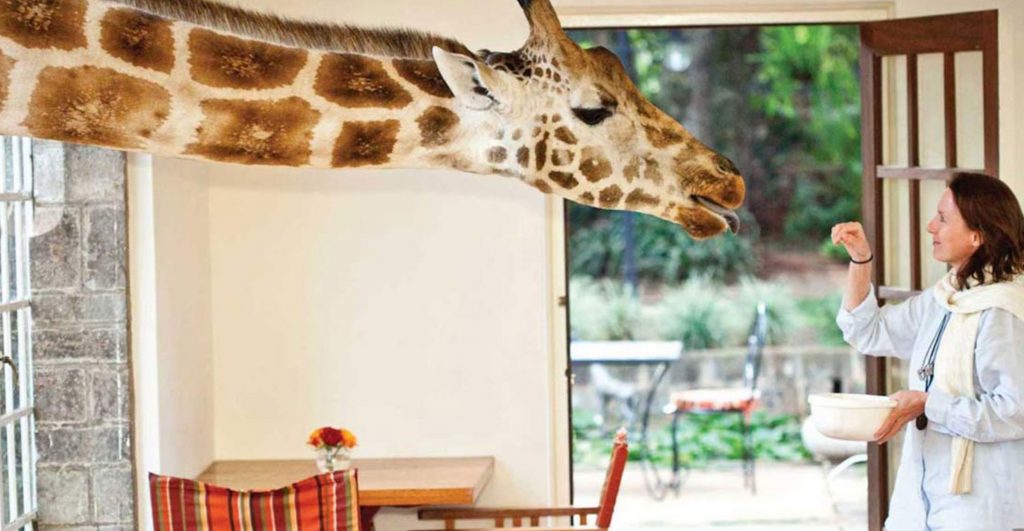 Dining
When you book a room at Giraffe Manor you receive a full-board package. This means the room price includes everything from laundry, transfers and sightseeing tours to food and drinks. Breakfast and lunch are served in the beautiful sun room adorned with chandeliers and large windows big enough to allow the long-necked guests to pop in and check out your plate.
Dinner is a tad more elegant affair. It is served in a sophisticated drawing room dressed in wood panels. It usually starts with drinks in front of the fireplace and continues either at the large communal table or at a private table. It can also be served on a romantic terrace under the stars accompanied by the glow of candles and lanterns.
The food is home-cooked and follows recipes inspired by European cuisine. Plates are often filled with fresh fish, pasta, and salads, and no one skips the dessert which is always irresistible. Moreover, if you have any food allergies or dietary requirements, the kitchen staff will happily make the necessary adjustments to your meal without compromising its divine flavors.
Rooms
Every one of the rooms at the Giraffe Manor has its own name, story, and décor. The hotel has twin rooms and suites and some of them have fireplaces and terraces that allow you to feed the giraffes from the comfort of your own room. Six rooms are situated inside the original manor while the other six await in the adjacent Garden Manor, a newer building that replicates the original. Nevertheless, all rooms are decorated with furnishing that respects the atmosphere of the hotel and its 1930s design. One of the rooms has wheelchair access.
Betty's Room is a superior room dedicated to Betty the giraffe that was born in 2000 and arrived at the Giraffe Manor two years later. The giraffe itself was named after Betty Leslie-Melville. She and her husband bought the manor in the 1970s and Betty dedicated a lot of her time to make sure the Giraffe Center will keep protecting the giraffes. This room is situated in the original manor and invites guests to relax while embracing the original décor of the manor. It has its own balcony with access to the giraffes, as well as a king-size bed and a fireplace. The bathroom has kept its Art Deco style and matches beautifully the rest of the chamber.
Room amenities:
original manor
32 square meters
king-size bed
baby cot option
fireplace
balcony with access to giraffes
free WiFi
coffee/tea machine
bathrobes
handmade Kenyan toiletries
in-room safe
mosquito nets
hair dryer
laundry included
Activities
Besides feeding the giraffes and admiring the butterflies on the manor's grounds, you can benefit from the complimentary chauffeured vehicles to visit the surroundings, tour the Giraffe Center or visit the David Sheldrick Wildlife Trust and maybe even foster a baby elephant. If you're interested to find out more about European settlers, visit the Karen Blixen and Nairobi Museums while if you want to purchase locally-made jewelry, there's no better place to visit than Kazuri Beads.
Considering the Giraffe Manor's popularity, we recommend booking six to twelve months in advance. The hotel has only 12 rooms and many people are looking forward to staying here.
You can book a room at the Giraffe Manor in Kenya on the Safari Collection website.