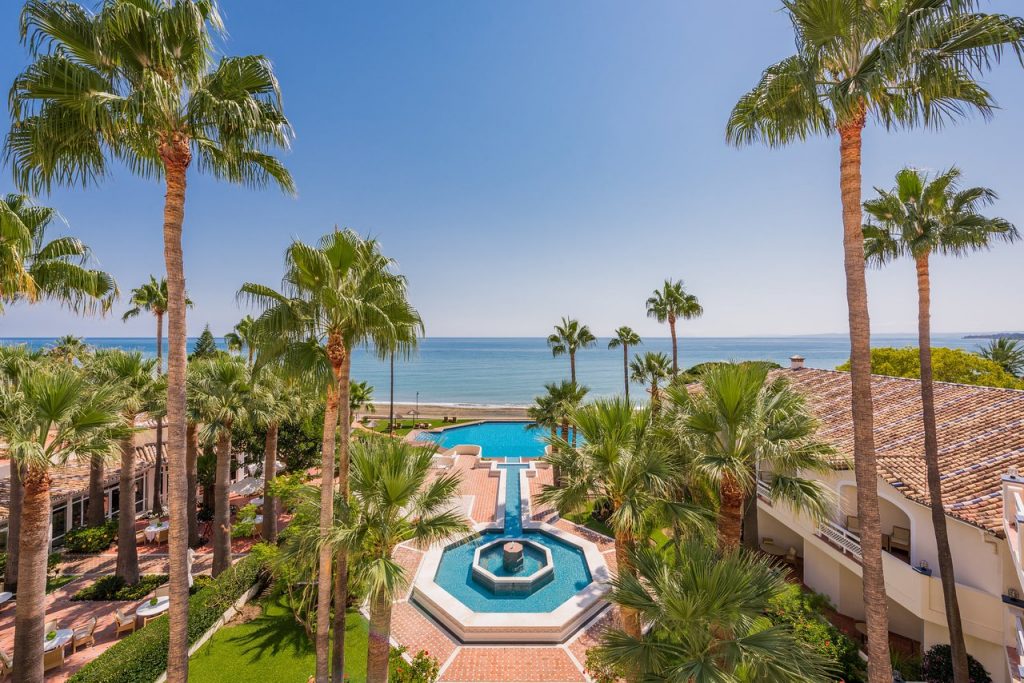 Set on the shores of the Mediterranean Sea between Estepona and Marbella, Healthouse Las Dunas is a small universe of its own on Costa del Sol dedicated entirely to wellbeing, health, and relaxation. The five-star resort is truly an appearance due to its gorgeous hacienda-style aspect, a traditional Andalucian palace set in a glamorous setting. Situated only a few minutes away from the classy marina of Puerto Banus and 15 minutes from Marbella, Healthouse Las Dunas combines luxury, comfort, and elegance, with healthcare, relaxation, and communion with the inner self.
An all-inclusive sanctuary dedicated to pampering all your sense and a healthcare center camouflaged in an extravagant and almost decadent resort, Healthouse Las Dunas is one of the most fashionable and glamorous hotels in Spain. Despite its policies against alcohol and heavy meals, and the minibars that abound in water and nothing else, the hotel is a destination sought and loved by many. Its programs dedicated to fighting stress, obesity, and smoking combined with 55 luxurious suites, Michelin-starred meals, and 3,000 square-meter spa center create an idyllic setting to enjoy a memorable holiday.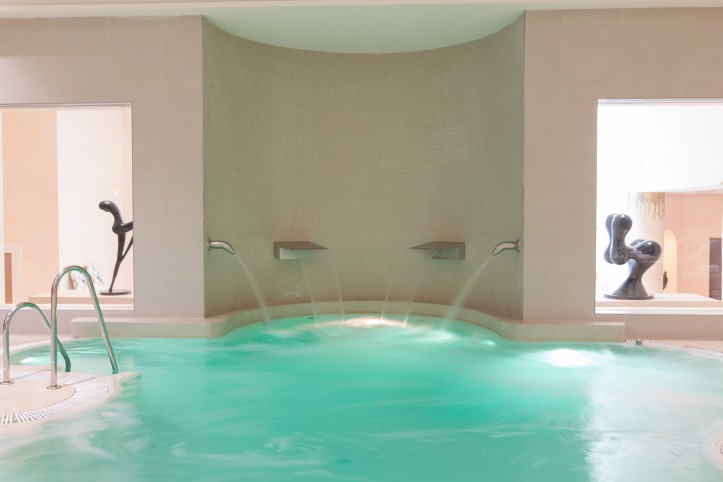 Services
Awaiting guests behind high walls and a curtain of palm trees, the hotel isolates itself from all that's worldly and touristy. This Mediterranean resort is dressed in lush sub-tropical gardens and invites guests to relax in an oasis of serenity and tranquility. All this while being situated close to the A7 highway! The magic begins from the open lobby atrium that helps you make quite an entrance walking under large chandeliers and stepping on a stunning marble floor.
Outside you'll discover an Alhambra-style pool surrounded by numerous sun beds and caressed by the breeze of the sea and swaying palm trees. The interior is overwhelming and houses a fitness center fully equipped with Technogym technology, a 319-square-meter Ekilum Spa Center, and the grandiose Health & Spa Center. The Ekilum Spa Center is more of a beauty spa where guests have access to skin assessments and are pampered with cosmetic and dermatological products.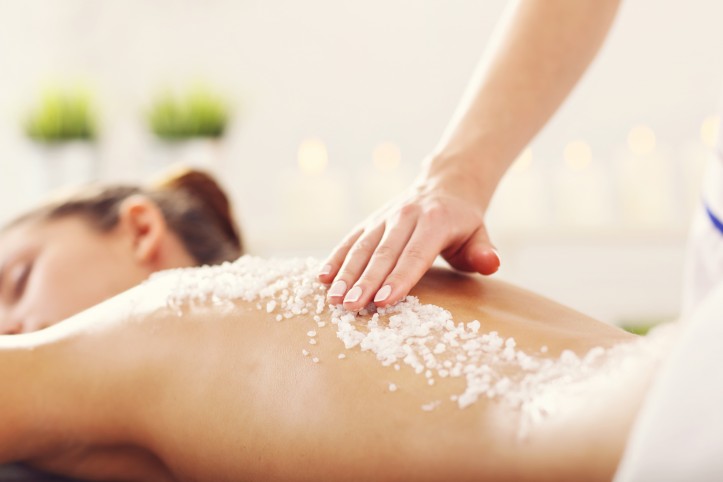 All roads lead eventually to the fabulous Health & Spa Center, a sanctuary for relaxation and pampering. Guests will unwind in a water circuit area where there is a heated vitality pool, a sensation path, and a swimming lane, but the surprise is definitely the magnificent snow cave that can magically take away headaches. As expected, there's also a sauna and a steam room. You'll also find a Himalayan salt cabin made out of blocks of salt and illuminated with mood lighting.
The hotel provides a vast selection of packages – anti-stress, detox, weight loss, anti-aging, and anti-tobacco – and offers access to an impressive selection of activities, including yoga, Pilates and even Nordic walking. If you don't have time for a full program, you can just book a spa day or a healthy weekend deal! The programs are created by specialists and tailored for each guest who will have access to the services of nutritionists, psychologists, and yoga and Pilates teachers. For watersports aficionados, the hotel can arrange windsurfing and stand-up paddleboarding sessions.
Dining
The hotel offers both Bed & Breakfast and all-inclusive packages. Considering the purpose of a retreat at Healthouse Las Dunas, an all-inclusive package where the meals are carefully prepared by the hotel's chefs is more than recommended. This way, there won't be any temptation to compromise your wellness rituals with a glass of wine or a tortilla at a restaurant nearby. All meals are healthy and calorie-controlled to contribute to the wellbeing created by the hotel's facilities and specialists. Sugar doesn't make an appearance at the table but your taste buds will be pampered by a variety of exquisite dishes.
The menus of the restaurant Las Dunas were originally created by Andoni Luis Aduriz, one of the best chefs in the country and the proud owner of the Mugaritz restaurant in the Basque Country, as well as of two Michelin stars. He guided the kitchen staff for 4 years and the restaurant's menus have kept his touch while adding new twists to keep up with the changes on the culinary scene.
Breakfast is a fixed meal and not a buffet to avoid the tendency to overindulge and lose track of calories. Lunch and dinner are elaborate meals as flavorful and delicious as they are beautifully presented. Many of the dishes, including seafood, white fish, meat, and an abundance of vegetables are seasoned with herbs and spices instead of salt to preserve the clean eating policy established by the hotel. Depending on the program you choose, you can have a different diet, but the menus change every day, so there's no time to get bored.
Restaurant FELIX is surrounded by the freshness of the lush gardens and takes dining to new heights and invites guests to delight their taste buds with international and Japanese ingredients that have been beautifully blended into innovative and dazzling dishes. While Las Dunas restaurant doesn't serve alcohol and follows the dietary guidelines established for the various programs, FELIX enriches the culinary experience with rich wines and doesn't count calories while offering breathtaking views of the Mediterranean Sea.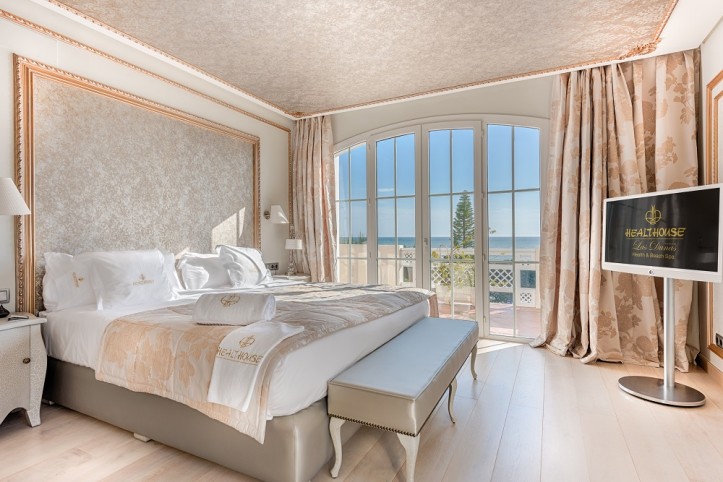 Rooms
The luxurious rooms at Healthouse Las Dunas prove once again this is a 5-star luxury hotel that doesn't compromise when it comes to the comfort of its guests. It's not only a healthcare retreat but also a glamorous residence home to sumptuously decorated suites that offer either sea or garden and pool views. The 55 lavish rooms are dressed in tones of grey and beige, neutral hues that create a tranquil space and invite to relaxation, and each one of them has its own balcony or terrace. Beds are adorned with Egyptian cotton sheets with a 320 thread count, but if you prefer, you can always change them with silk or linen bedding. There is one room adapted for guests with disabilities and the wheelchair users have access to every area with lifts.
The Deluxe Suite Sea View combines the elegance and sophistication of a small palace with the coziness of a home away from home. It is divided into a bedroom and a living room, where you'll also find a Loewe TV, and covers an area of 75 square meters. It exudes luxury and comfort from all its corners. Besides the standard Egyptian cotton sheets, the room also provides bathrobes, slippers, and a fabulous terrace from where you can admire the superb view of the Mediterranean Sea. Moreover, the matching luxurious bathroom is equipped with an illuminated make-up mirror and a Black Mambo hairdryer. Guests can choose their favorite Healthouse bathroom products from an extensive list and receive them in bottles of 200 ml.
Room amenities:
75-100 square meters
king-size bed
air conditioning
2 TVs
writing desk
furnished terrace
minibar
telephone
in-room safe
free WiFi
coffee/tea machine
bathrobes
slippers
spa bath
large shower
hair dryer
bamboo slippers
cotton slippers
Adults only
The hotel is reserved exclusively to adults but families with kids have the possibility to book a stay at the elegant adjoining apartments and benefit from programs tailored for kids and parents, such as the Fit and Fun program. The property has a kid's pool and lovely gardens.
If you're ready to invest in your wellbeing, you can book a room and a program on the Healthouse Las Dunas website.