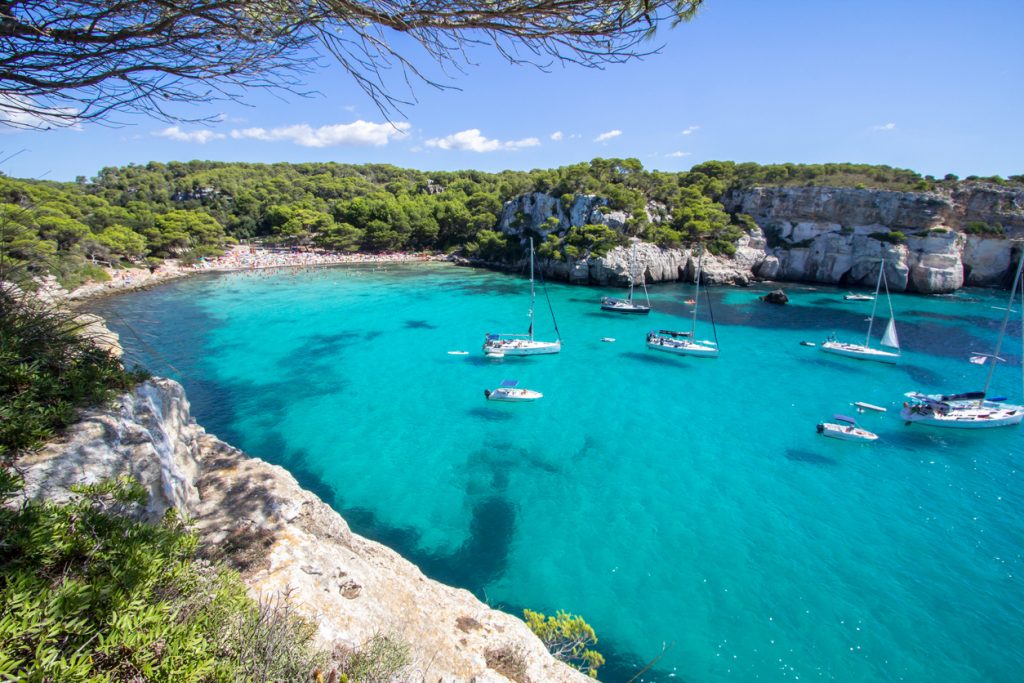 The shy sister of Mallorca and Ibiza, Menorca is a destination for those who want to get away from the hustle and bustle and relax on the beach. More tranquil and less developed, this Balearic Island doesn't care much about fame and fortune. Discreet and charming, Menorca gravitates around its plethora of sandy strips, shy coves, and aquamarine waters. Families and couples of all ages choose Menorca as their holiday destination whenever they want to get away from it all and unwind in a peaceful and gloriously beautiful setting.
From the pretty towns of the island to the sandy beaches, everything in Menorca is meant to enchant and relax. Menorca is a small island measuring no more than 47 km in length and 17 km in width but is rich in attractions and fun things to do. It was declared a UNESCO biosphere reserve in 1993, which means that the locals focus more on the environment and less on building skyscrapers and gargantuan resorts that might endanger the island's flora and fauna. So, expect less concrete, steel, and glass, and more sea, sand, and grass.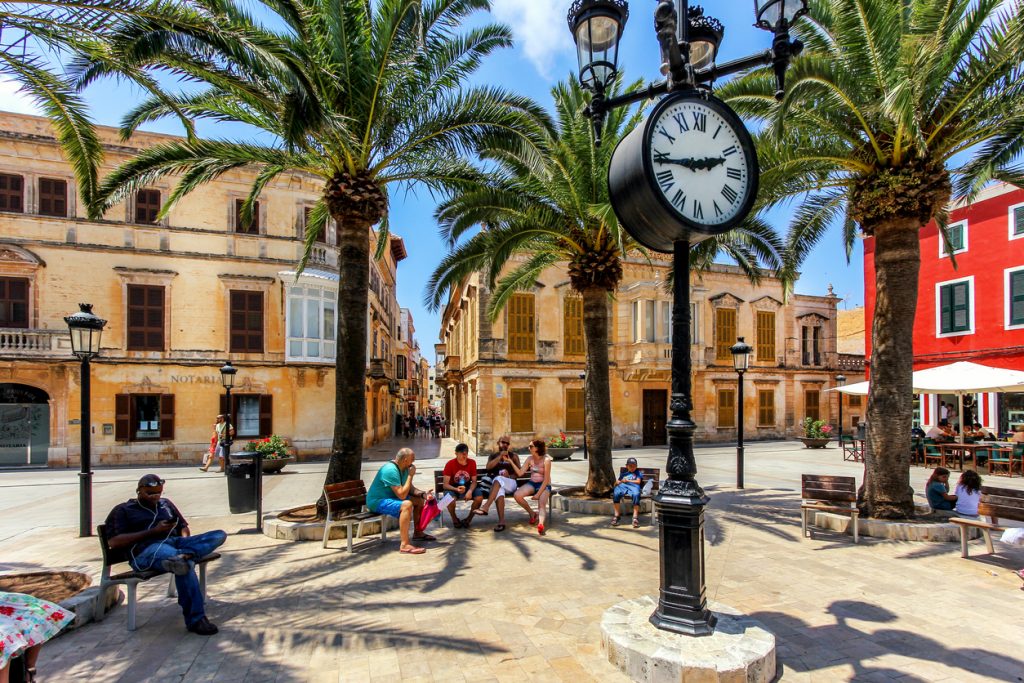 The daily rhythm is slow in Menorca! As slow as you can imagine and no town or beach gets too crowded…ever! There's no mass tourism on the island and nobody seems to be upset because of this. Life goes on as always for the locals untroubled by the contemporary consumerism frenzy. You don't even need to make a dinner reservation here. There are plenty of restaurants and seats for everyone!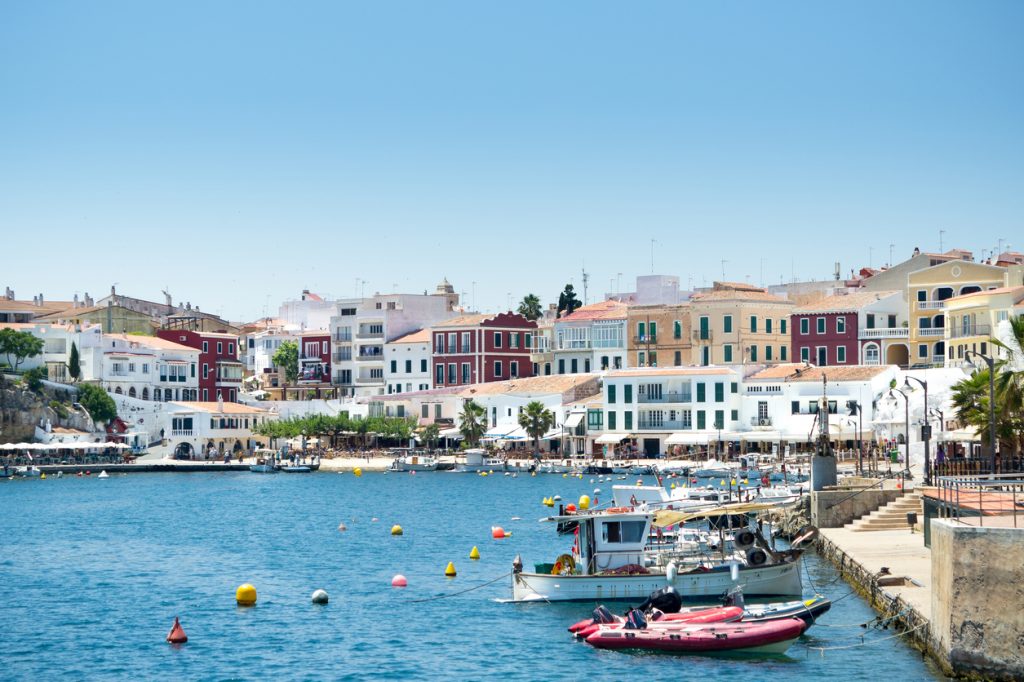 Visit Mahon and Ciutadella
The main towns of the island are Mahon, Menorca's capital, and Ciutadella, the island's most photogenic town. Both towns are pretty and as charming as you can expect. Adorned with medieval architecture, pastel-colored narrow streets, large piazzas, Gothic churches, and cute harbors, Mahon and Ciutadella follow all the "rules" to be quaint and enchanting old European towns.
While the island's capital is a mixture of architectural styles, dominated by Georgian and Moorish elements, Ciutadella charms its audience with colorful facades and narrow alleys overwhelmed by medieval architecture. Mahon's old center is reserved only for pedestrians and abounds in boutiques, cafes, and restaurants. All its narrow streets lead to the turquoise sea and a natural harbor that dazzles with superb views of the town.
Don't miss a visit to the 13th-century cathedral that awaits in Ciutadella and its picturesque port situated close to the town's old quarter. Just outside Mahon, you'll discover Binibequer Vell, an apparent picturesque fishermen's village but an actual holiday apartment complex where you can stop for a bite and a drink.
Enjoy the miles of unspoiled beaches
Menorca surprises visitors with Caribbean-like beaches dressed in white sand. The south coast is blessed with many unspoiled coves, such as Cala Mitjana, Cala Turqueta, Cala Macarella, and Cala Trebaluger. The prettiest are Mitjana and Macarelleta, hypnotizing visitors with pure white sand and azure waters guarded by sandstone cliffs and pine groves.
The beaches in the north are totally different. Here the sand is darker and the landscaped more dramatic. The cliffs are rugged and the vegetation sparse but the water is as crystalline as anywhere else on the island. The atmosphere is even calmer and quieter on the north coast, so if you prefer this natural setting, you should choose to spend a few hours on the sand of Cavallaria, a 500-m long beach caressed by crystal clear waters.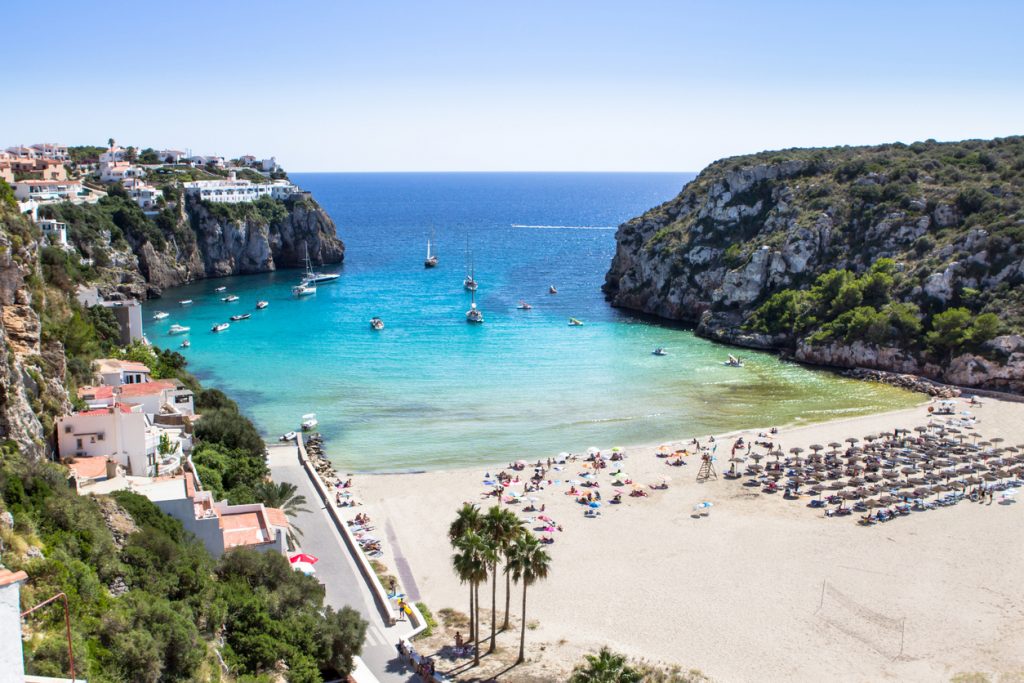 Be active and discover the island
Even though Menorca is a slow-paced, serene island, you'll find plenty of fun things to do there. If you're adventurous and up for a long hike, follow the Cami de Cavalls hiking route to capture superb views of the island's coast and countryside. Or you can try some mountain-biking or horse riding. Want to take things slowly but still feel like you're moving a bit? Golfing is always a fun option to exercise a bit and spend some time standing.
If you love water, you're in the right place. Menorca is an aquatic paradise where you can enjoy any type of water sport, from sailing and paddle boarding to windsurfing and surfing. Diving is one of the most popular water activities on the island, especially since Menorca is known as the Caribbean of the Mediterranean due to its superb diving conditions.
Don't leave the island without exploring the fascinating Cova d'en Xoroi, a superb cave complex carved into the cliffs above Cala en Porter. Come here at sunset to admire a superb view while sipping your exotic cocktail. Are you in the mood for some fun? Spend your evening at the cave's nightclub. Surprised?