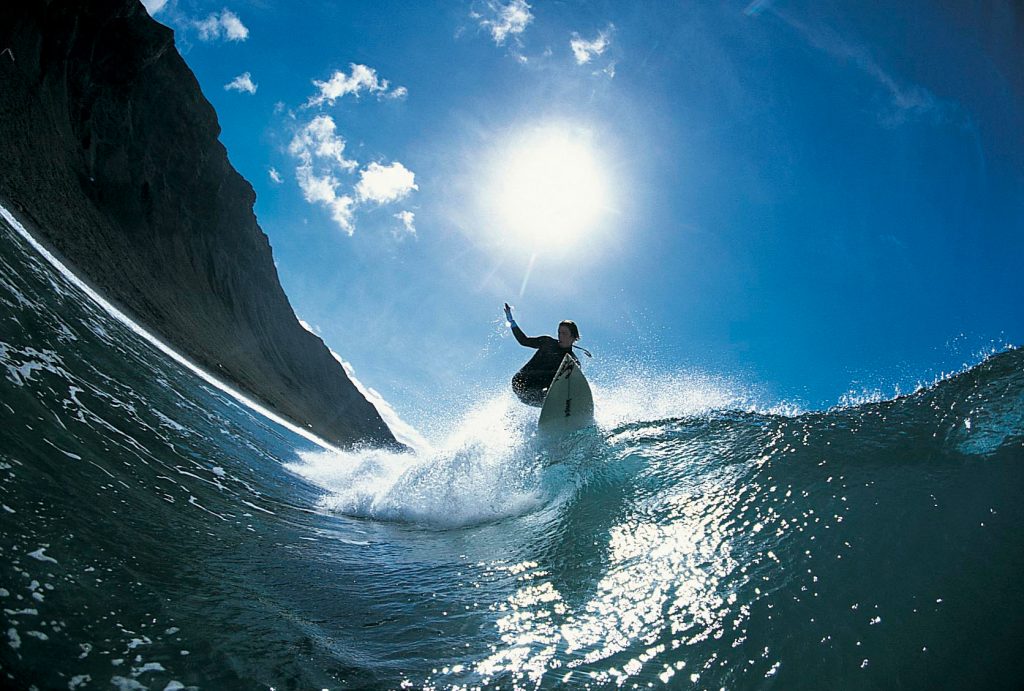 Long have the Canary Islands been given the title of 'The Hawaii of the Atlantic', with Lanzarote being the Atlantics North Shore, but whilst Lanzarote does get pounded by Hawaiian style swells it has a lot more to offer all levels of surfers.
The islands position, only ninety miles from the coast of Africa, means that it has a year round warm climate; winters are mild with average air temperatures in the low seventies whilst summers are hot with temperatures regularly touching ninety.
The prevailing trade winds sweep off the Sahara bringing dry warm air and rainfall is low; the north easterlies blow offshore grooming consistent well-spaced swells from the North Atlantic.
From a surfers point of view the main place to head for on the island is the stretch between La Caleta(Famara beach) and La Santa. The coast here is perfectly orientated to deal with all swell directions and wind conditions.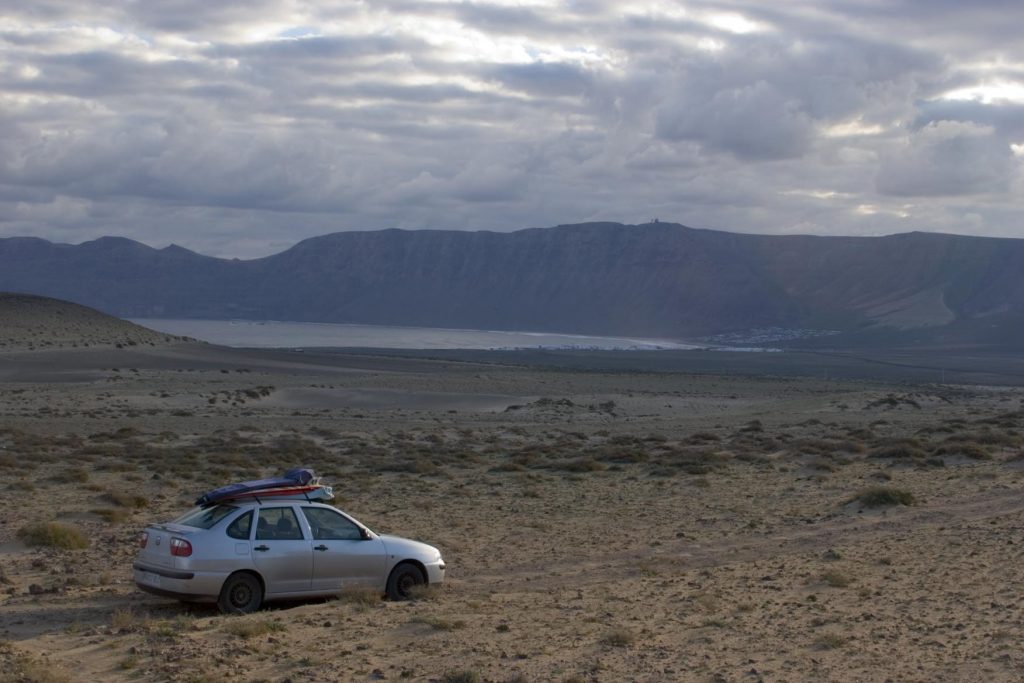 Arriving in La Caleta is always an awe-inspiring moment whether you arrive at night or in daylight. The view down to the coast from Lanzarote's central volcanic range in day time is breathtaking, the Atlantic seems to form a bowl rimmed by the towering cliff of an old volcanic caldera, at night it appears you are staring out into the abyss with only the speckled lights of La Caleta village as distant guides to your destination.
La Caleta itself is a typical whitewashed Canarian fishing village, a few pleasant restaurants and a couple of coffee and cake shops sit around the dusty village centre. Inland only volcanic cones break the rocky volcanic desert. La Caleta lies on the divide between the huge sweep of Famara beach beneath towering cliffs and the volcanic ledges and reefs that Lanzarote is famous for.
The beach itself is the ideal training ground for all levels of surfers. If you're there for the first time then the mellow waves and warm water allow you to get to your feet in incredible surroundings. Those surfers who aren't quite ready for the reefs but are competent will also find some good waves on the beach, the mile plus of sand offers peaks and sizes for all abilities and can handle a variety of winds.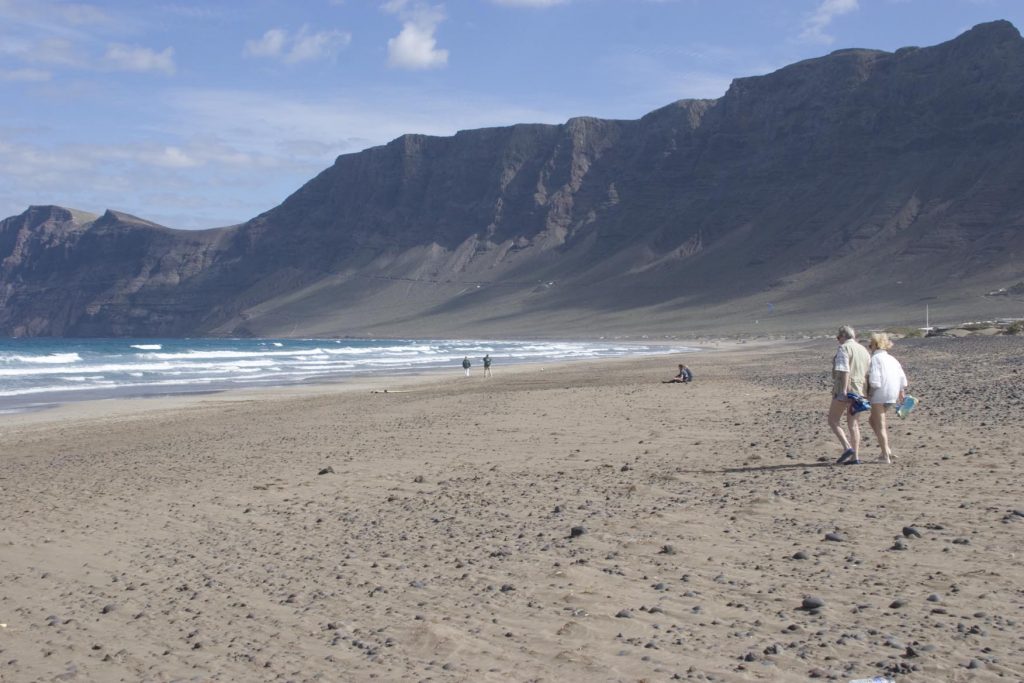 In Famara itself there are a couple of reefs, the harbour left occasionally works on big swells; you can guarantee that it will be crowded with locals when it is on though. Just west of town is one of Lanzarote's best reef breaks at San Juan, the long hollow lefthander and shorter right offer a fast performance wave.There was a time when San Juan was one of the most localised spots on the Island, in fact Lanzarote for years was known as much for it's localism as it was for its waves. Thankfully this fearsome reputation is now unfounded, today many of the locals have surf related businesses and whilst the utmost respect should be shown in the line up and the rules of surfing should be followed there is little chance of seeing any trouble.
West of San Juan there is a stretch of barren inaccessible coastline, rumours abound about what lies on the edge of the lava fields but in reality the answer is not much until you reach the little village of Caleta de Cabello. Here you'll find lefts in front of the village and a peak just to the east known as Ghost Town, both good waves.
A mile west is the imposing structure of the La Santa sports centre, a base for winter training for many athletes due to the mild dry weather. La Santa village itself is a pleasant fishing village, which has grown into a small holiday centre. It has numerous restaurants, bars and cafes and a couple of supermarkets. Of course La Santa is also the centre for the Islands surfing community with its three most famous waves all out front. El Quemao is the best known, often described as the Pipeline of the Atlantic, it is a hollow lefthander with the occasional day of rights. It's an unforgiving wave, shallow and with an end section that if you misjudge it you're likely to enjoy a rough ride across an urchin infested reef. For the more experienced surfer it is a joy and real test of your ability.
Crowds fluctuate, on the best day of the winter it will be busy but many good days see it go only lightly ridden. Village left is the best wave on the Island, also called The Slab by foreigners the heavy left and rights are truly world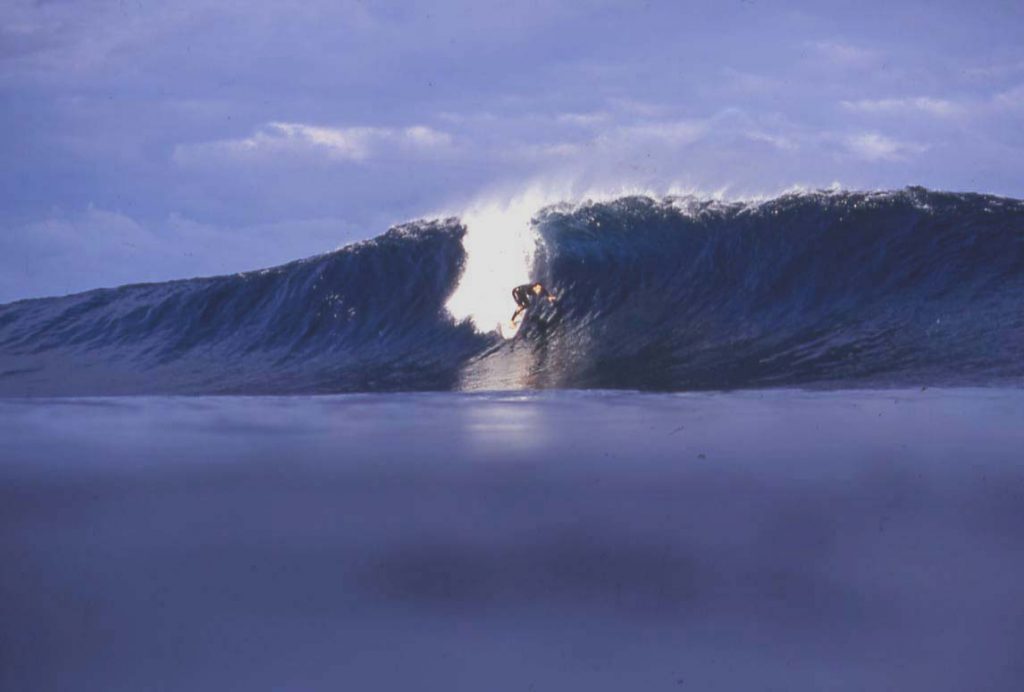 class. Its reputation however guarantees a crowd and the fact that it is also very consistent means that getting this wave with few people out is rare and on classic days getting just one wave from the hungry locals is tricky. Just across the channel from village left is Morro Negro a long sweeping right-hander that handles serious size. The point as it is often referred too is a quality wave for anyone from an Intermediate surfer all the way up to a pro. At three foot it's a dream on a longboard or a shortboard with long walls to play with, at six foot it's challenging but enjoyable with a few hollow sections, above this and it starts to get serious and can hold almost anything with a big outside Sunset style peak offering heart-pounding drops.
There are many other waves on the island, the east coast has plenty to offer when the swell is big and just offshore is the wave haven of Isla Graciosa, but it is the stretch from Famara to La Santa, which is richest and offers so many options for so many standards of surfers.
Away from the surf and Lanzarote is probably famed for three things, the seafood, the volcanoes and the beach/nightlife of the southern resorts. The food is out of this world, fresh caught fish is a treat and the little local restaurants in La Caleta and La Santa are both reasonable in price and high in standards.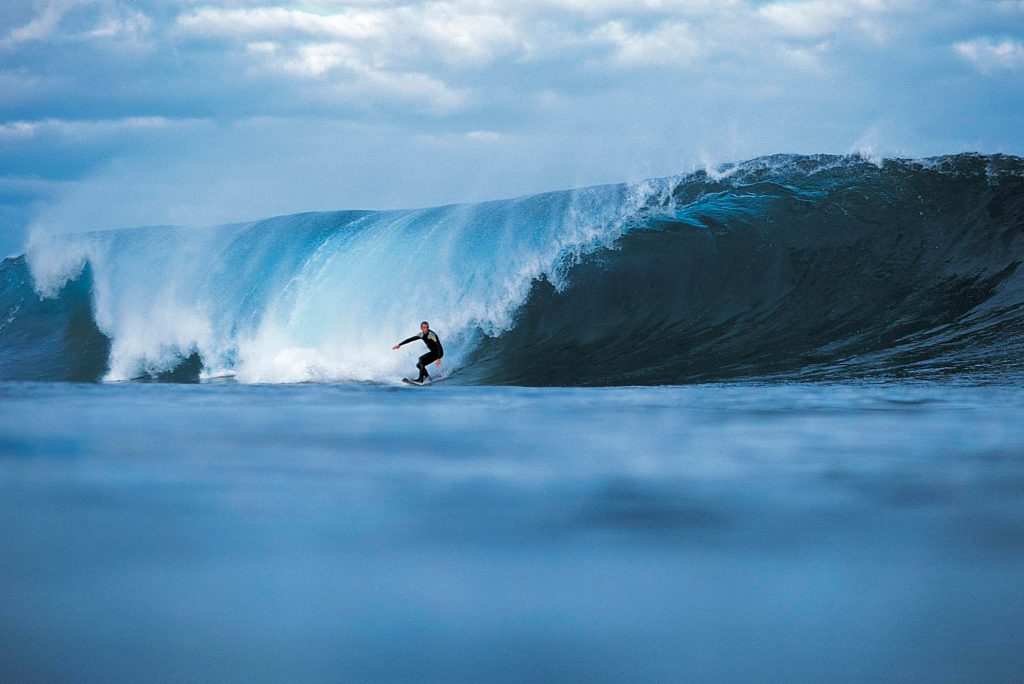 On down days in the surf an essential visit is Timanfaya National Park. The park is a huge volcanic field devoid of human touch, it was created only centuries ago when a series of volcanic eruptions in the 1730's and again in the 1820's created this breathtaking scenery. It is also a site of scientific interest and there is a visitor's centre and laboratory focusing on the diversity of plant species that are colonising the lava fields. There are also geysers to visit and one restaurant that grill its meat over a thermal vent, its 600 degrees centigrade only ten metres below the surface!
For those surfers who are looking for a more lively time then Puerto Del Carmen is worth a look. A typical package holiday resort the town is full of pubs and clubs and all the usual trappings associated with this sort of development.
Lanzarote at first glance looks like a barren place but dig a little deeper below the surface and it is a vibrant diverse island with something for every taste and more importantly, for surfers it has waves for every standard in a very small area. There aren't many places on earth where you could be surfing a pipeline like wave and ten minutes away there is a mellow beach break full of beginners, add the consistently good weather to this and it's not difficult to see why Lanzarote is a surfer's paradise.