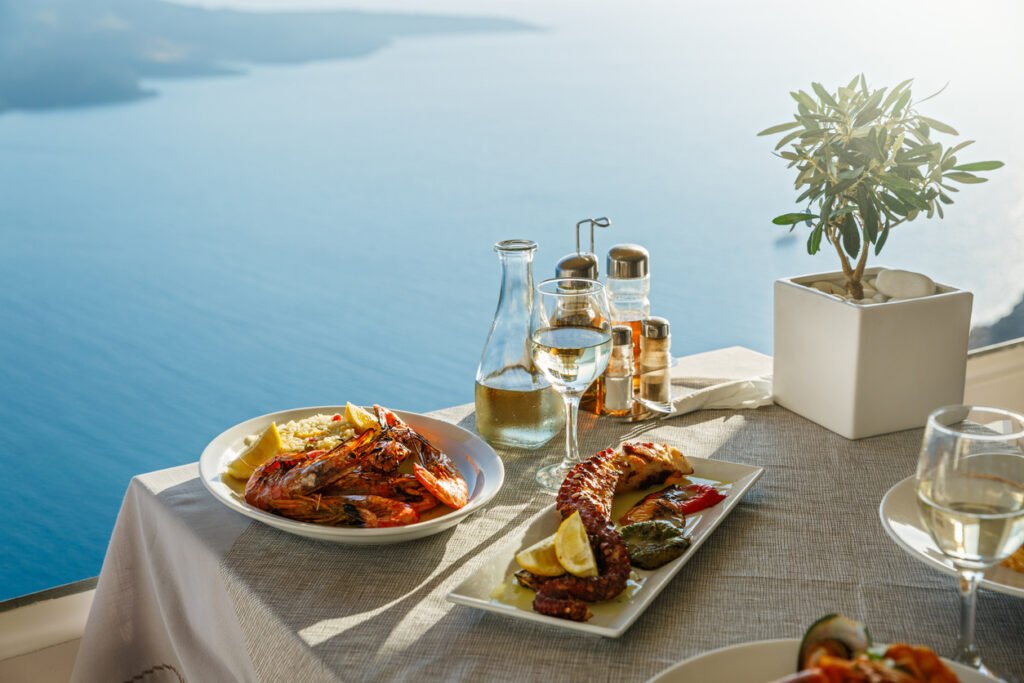 You truly need to enjoy the food dishes in Greece. Rich and fascinating history is beautifully illustrated through its ancient sites, but you'll also find it in the Greek cuisine. Their traditional menus include a frenzy of fresh ingredients and delicious recipes that have captured thousands of years of history into their flavors. Any Greek dish has a story to tell and a rainbow of flavors to unveil. Eating Greek food is like traveling back through time.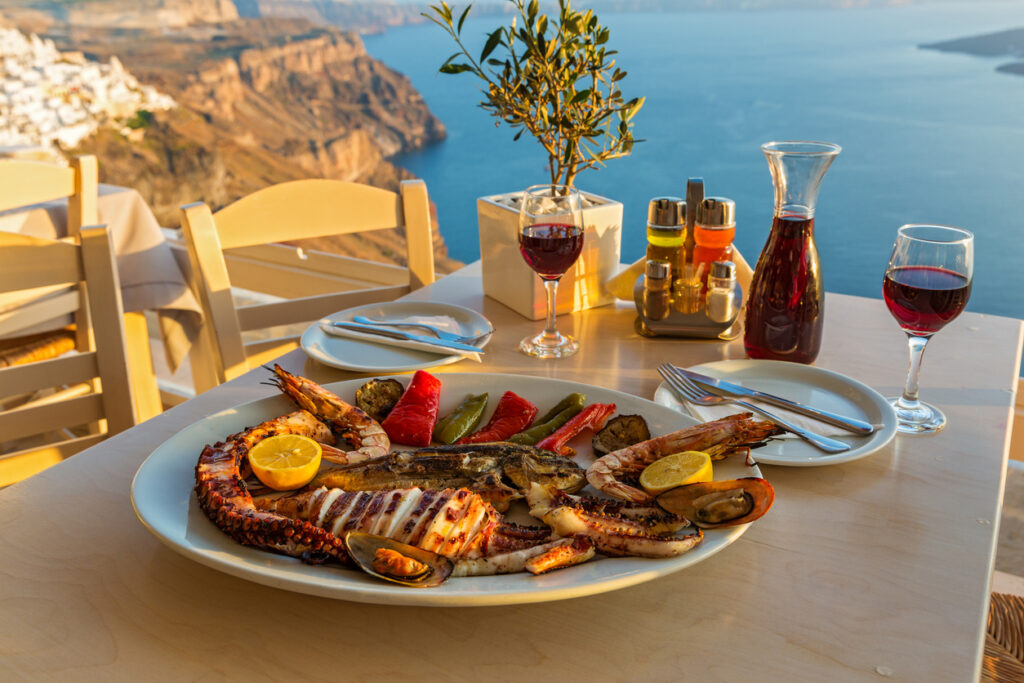 The Mediterranean diet is one of the healthiest in the world. Greek food is fresh and colorful, gravitating around ingredients like olive oil, vegetable, legumes, nuts, grains, and fruits. Herbs are omnipresent in their recipes to bring out the best in any dish. Greece's climate is ideal for growing olive and lemon trees, and you'll feel their presence in many of their specialties. Any traditional meal is a delightful dance of olive oil and herbs like basil, oregano, thyme, or mint.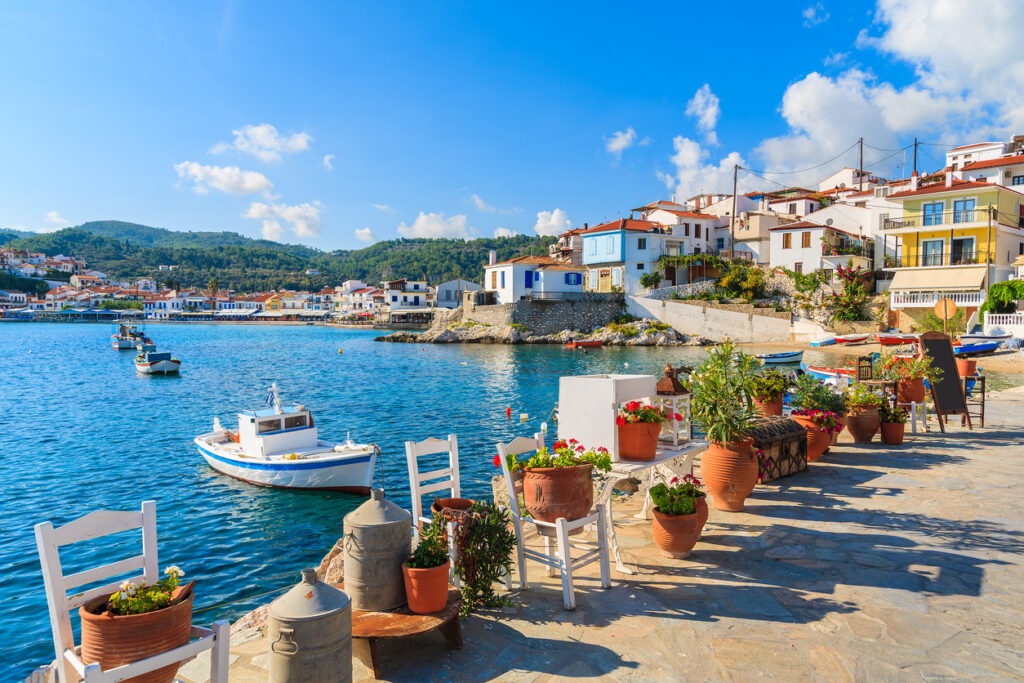 The Greek islands are a paradise for seafood and fish lovers, the local tavernas serving an abundance of fish specialties. However, Greek menus also include lamb and goat, mostly when celebrating certain holidays or at festivals, as well as pork and poultry. Discover the most popular food dishes of Greece and you'll taste the flavors of ancient Greece. Here is our selection of just a few nice food dishes in Greece.
Tzatziki
The world-renowned tzatziki is a refreshing dish based on an inspired combination of Greek yogurt, cucumber, and garlic. Perfect in the hot summer days, tzatziki is a delicious dip for a slice of focaccia or pita bread, especially when accompanied by a beer. You've probably already tried tzatziki, but as you've probably guessed it, there's no tzatziki like the one that awaits for you in Greece.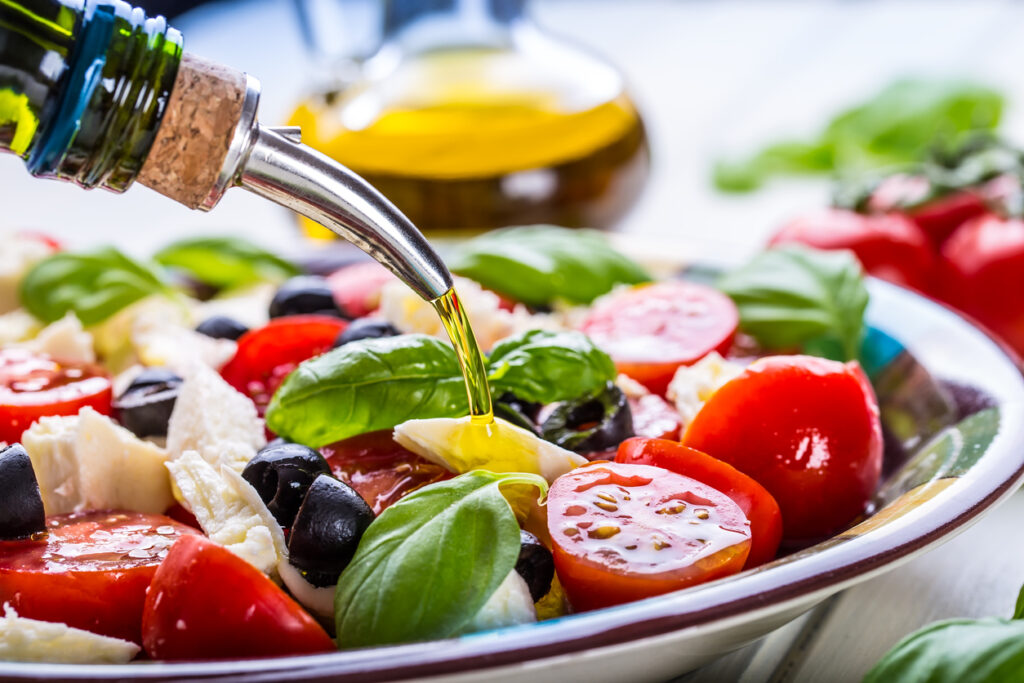 Moussaka
A dish famous mostly in the Mediterranean region and the Balkans, the moussaka is one of the most loved dishes in Greece. Created with layers of fried eggplant, minced meat, and potatoes, combined with tomato sauce, onion, and garlic, and slowly baked under the weight of béchamel sauce and cheese until it turns golden brown, the moussaka is an exquisite meal. Some restaurants serve the vegetarian version too, as hearty as the original recipe, but as refreshing as a summer day.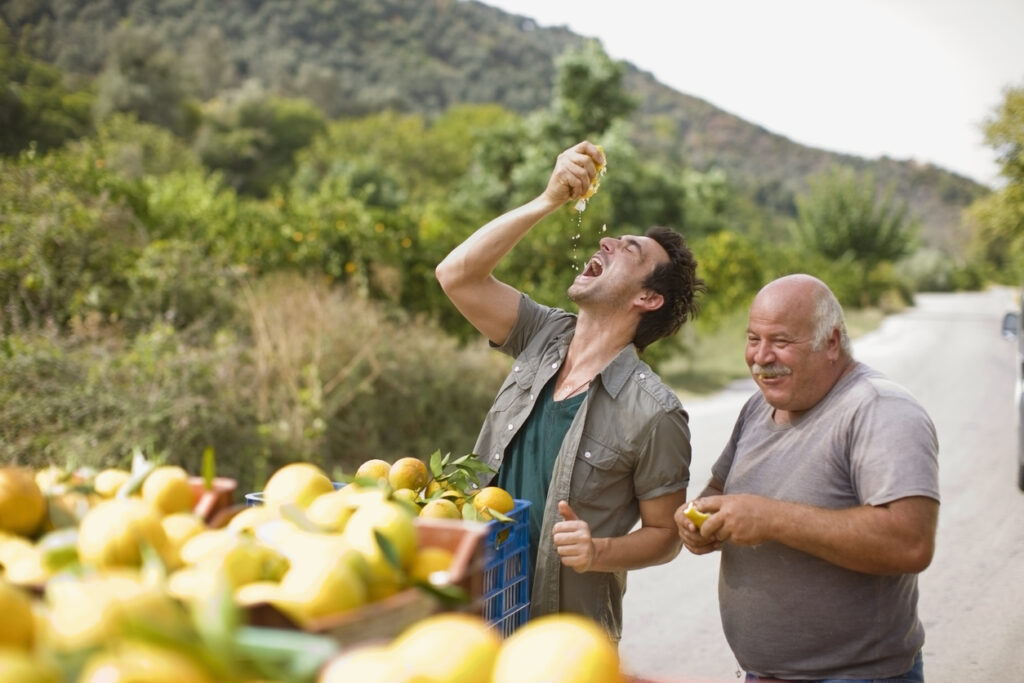 Souvlaki
Any Greek restaurant in the world serves the famous souvlaki. A delicious street food, souvlaki is a simple dish that revolves around grilled meat on a skewer. However, the secret of a spectacular souvlaki hides in its tzatziki dip combined with a frenzy of vegetables. Souvlaki can be pork, chicken or lamb meat, and is always accompanied by salad and fries, as well as pita bread.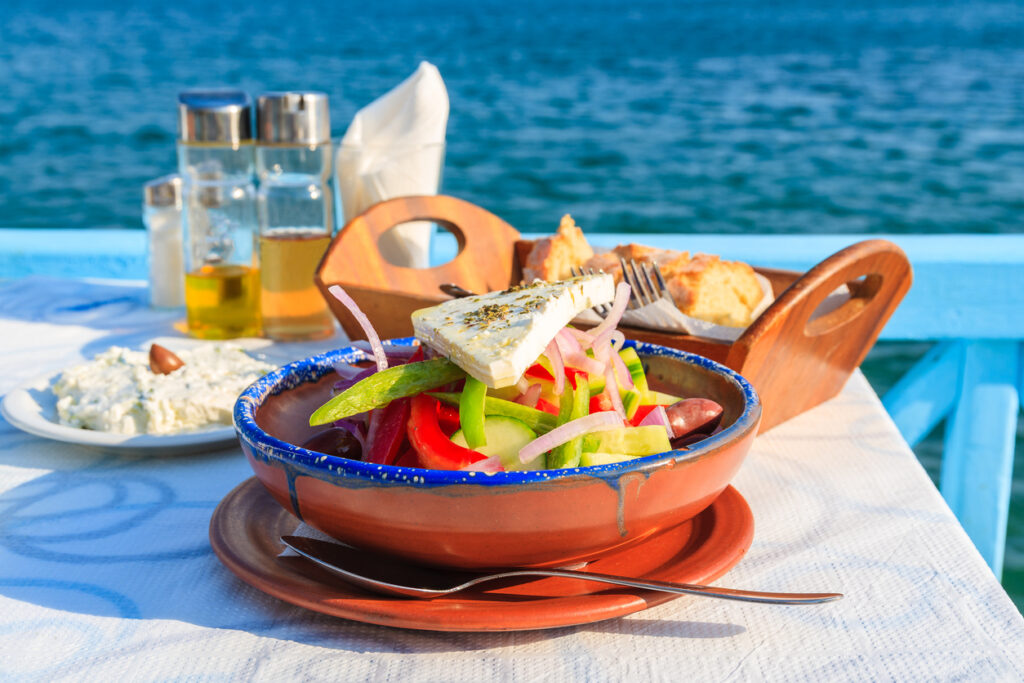 Gyros
The kebab's cousin, gyros is the uncrowned king of the Greek street food. This is the most popular street food in Greece, an abundance of pieces of meat cooked on a rotisserie and tightly wrapped in a flatbread. Alongside the meat, you'll also find tomatoes, cucumbers, salads, tzatziki, and fries, for a riot of flavors. The vegetarian versions replace meat with grilled halloumi (Cypriot cheese made from sheep's or goat's milk) or feta cheese.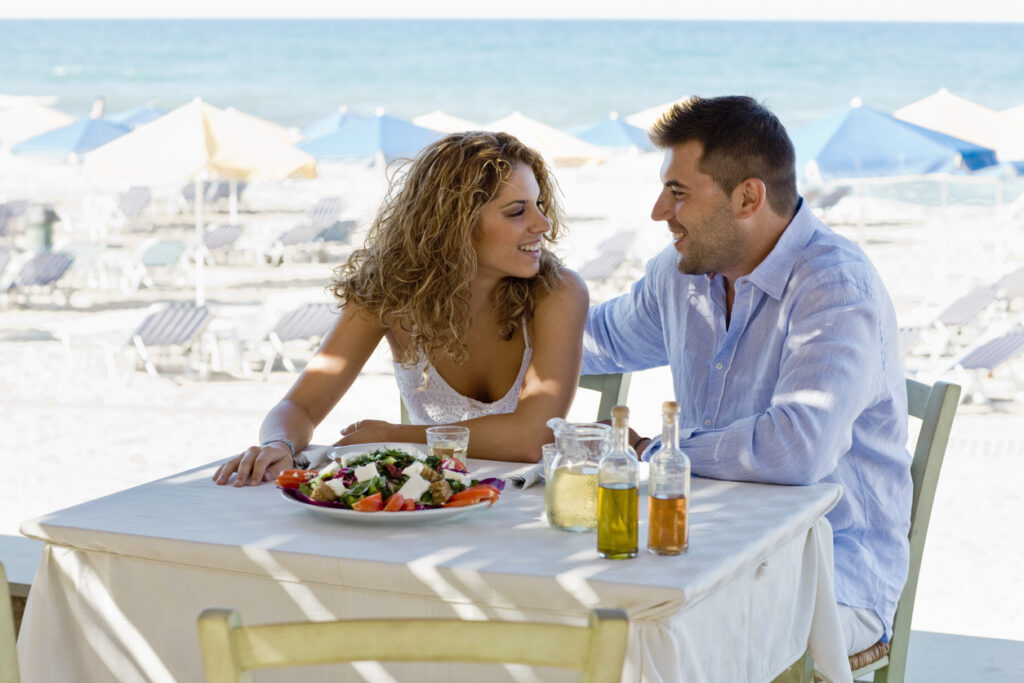 Spanakopita
Greeks love their pastry and you'll find many desserts based on phyllo (filo) pastry. However, spanakopita is a salty pastry made with spinach, feta cheese, onions, and eggs. The flaky phyllo is often the perfect coat for various combinations of vegetables and meat, as well as cheese and greens. If you love pastry dishes, you should also try the tyropita, a specialty made with a savory cheese filling.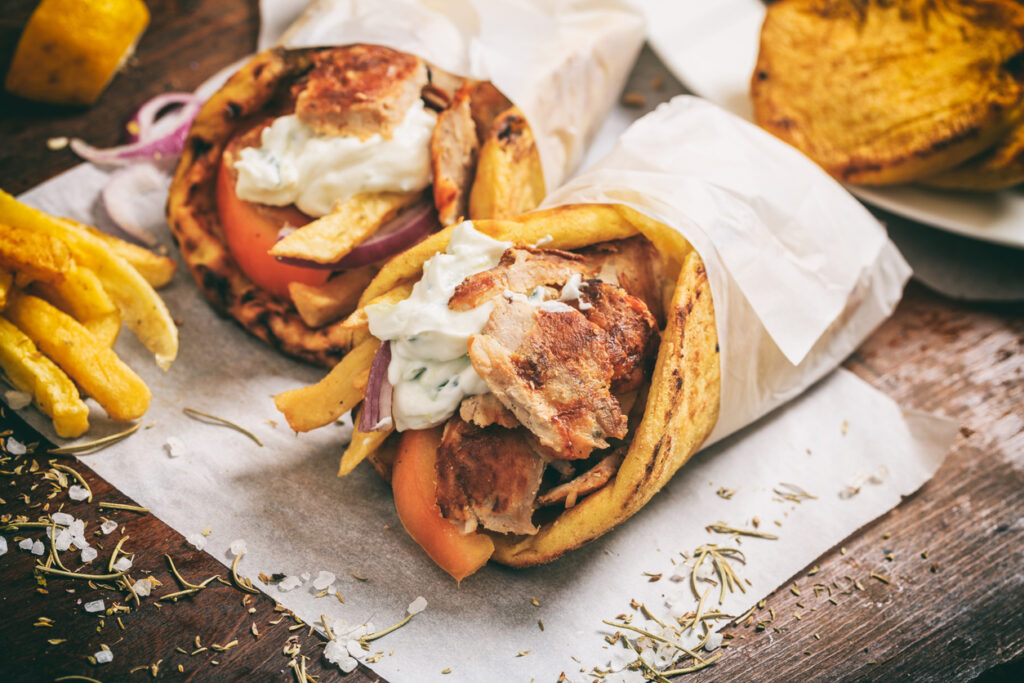 Dolmades
Tasty and inviting, the tiny dolmades are grape leaves stuffed with minced meat, rice, and herbs. The dolmades are often served as an appetizer but they are perfect as a main meal too, especially when they are stuffed with meat. You can also find vegetarian dolmades stuffed only with rice. They make for a great meal in the summer when the grape leaves are very easy to find.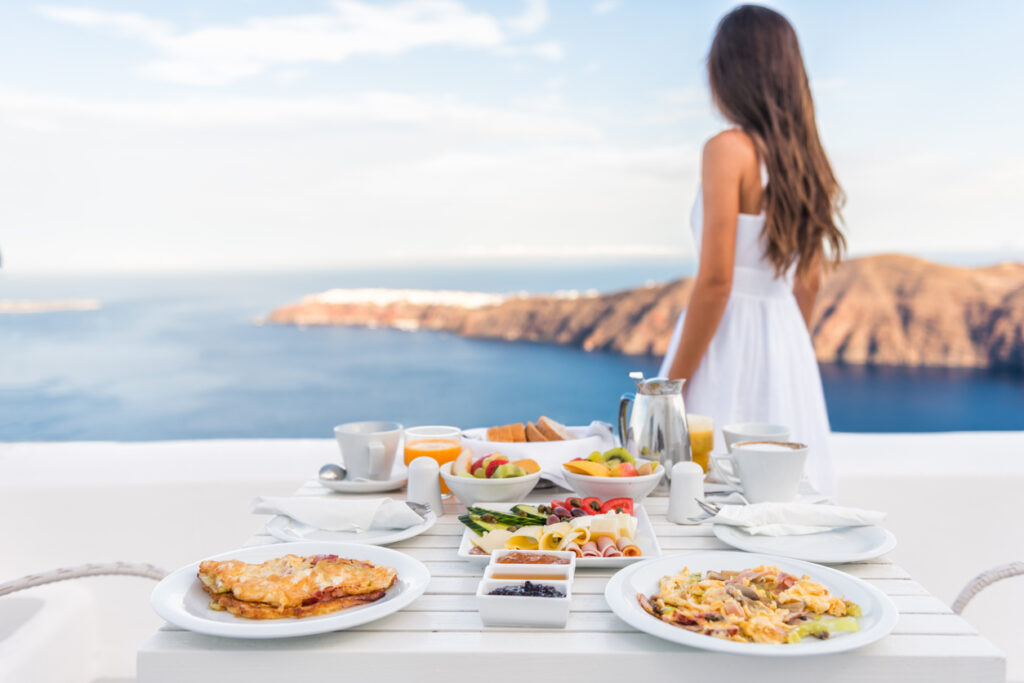 Bougatsa
Bougatsa is a favorite dessert of the Greeks, a sweet pie made from phyllo pastry and semolina custard. This pie is the ideal companion for the morning coffee, but it will be delicious at lunch or late at night too, due to its light texture and perfect amount of sweetness. You can also find it as street food or served at cafes, often dressed in powdered sugar or cinnamon.