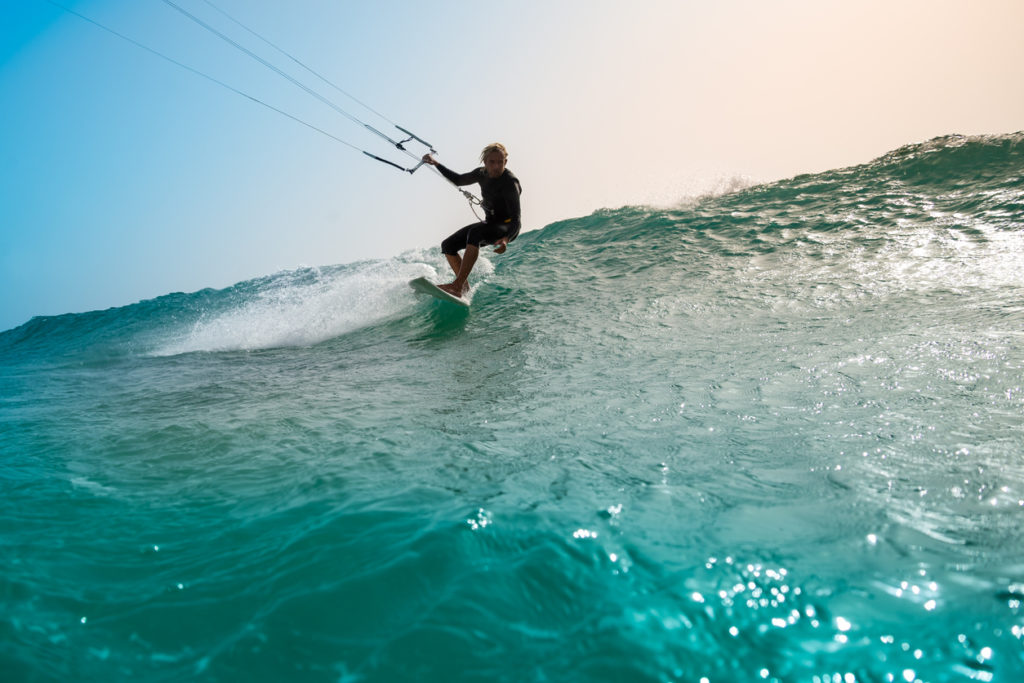 Fuerteventura awaits sun worshippers and water sports enthusiasts in the sunny Canary Islands. It is a gorgeous island with phenomenal weather all year round and a variety of adventurous sports. From hiking and biking to surfing and windsurfing, there's plenty to keep you active and entertained in Fuerteventura.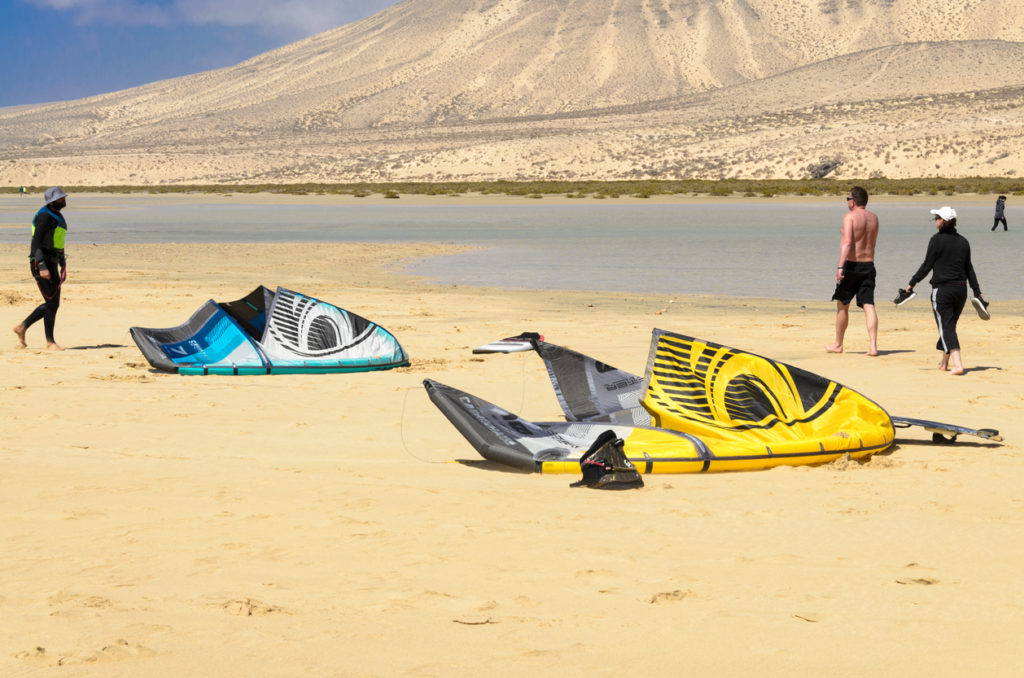 However, if there is one nautical sport that Fuerteventura is known for this is kite surfing. Home to the World Kiteboarding Freestyle World Tour, this Canary Island is more than an exotic summer paradise. Situated in the middle of the Atlantic Ocean, the island boasts exquisite wind conditions perfect for world-class kite surfing. Come from March to November for the best kite surfing conditions but if you have a chance to visit during the winter, don't say no!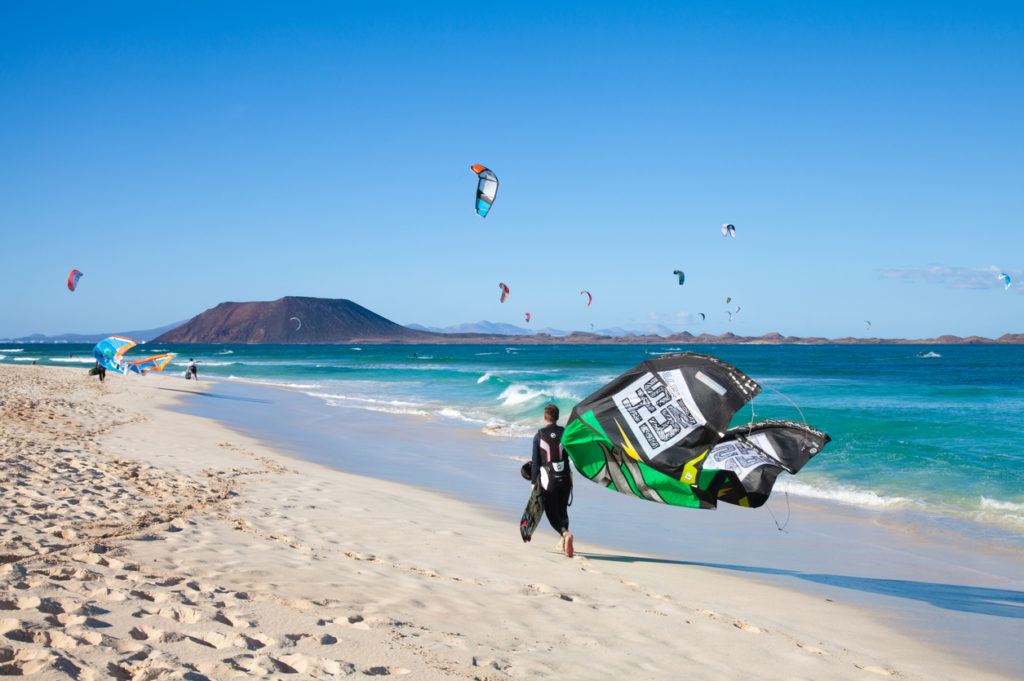 Flag Beach
Flag Beach is situated in the northeast region of the island, outside the famous town of Corralejo, an enchanting destination home to traditional Canarian culture and the best kite surfing spots on the island.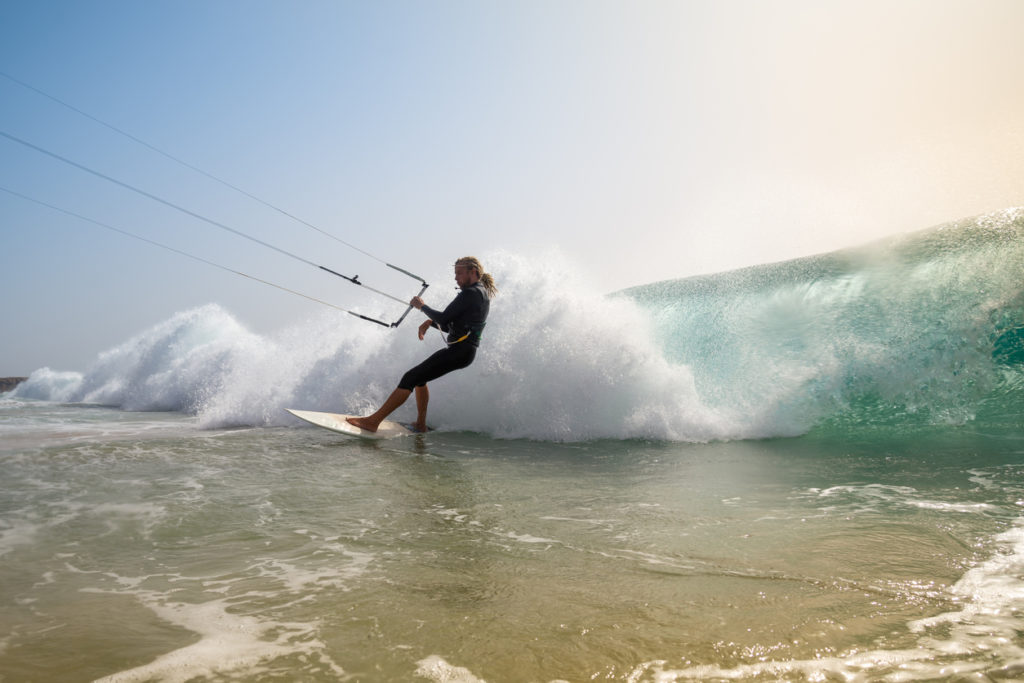 It is a large stretch of sand windswept by the north-west wind and home to a high tide. Winds can reach up to 20 knots creating the perfect conditions for beginners to learn how to master the art of kite surfing.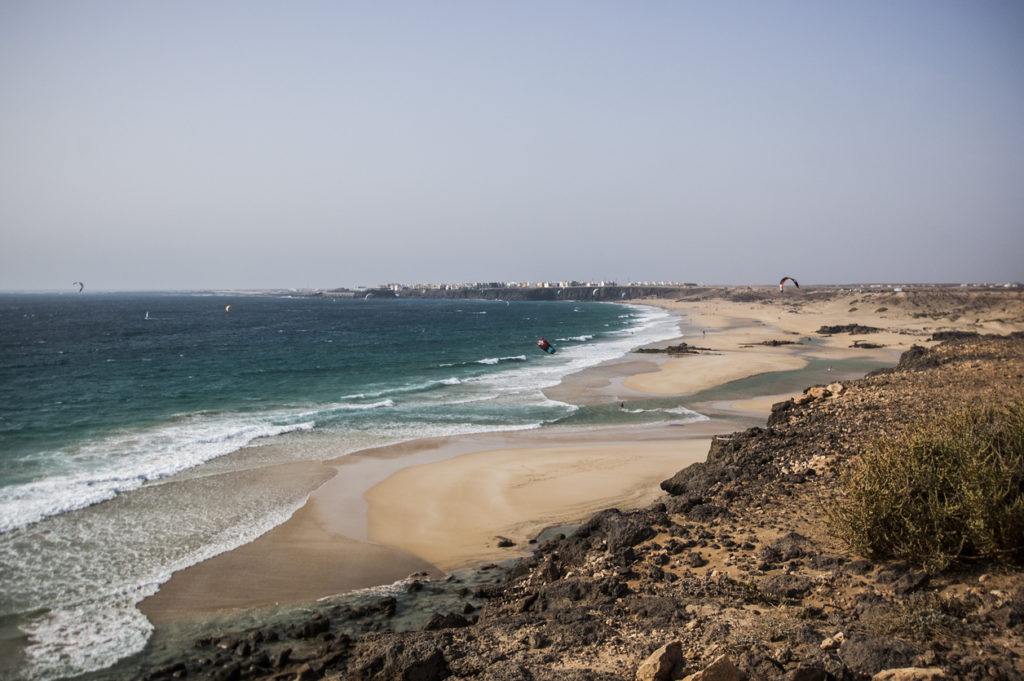 El Cotillo
Depending on when you're going, you can find either a sandy or a rocky beach. This 1-km long beach offers superb kite surfing conditions and gorgeous views. The wind can play tricks on you at times but nothing that you can't handle, especially when you leave the beach behind. El Cotillo has beaches dedicated to kiting, windsurfing, and surfing, so make sure you choose the right path for you.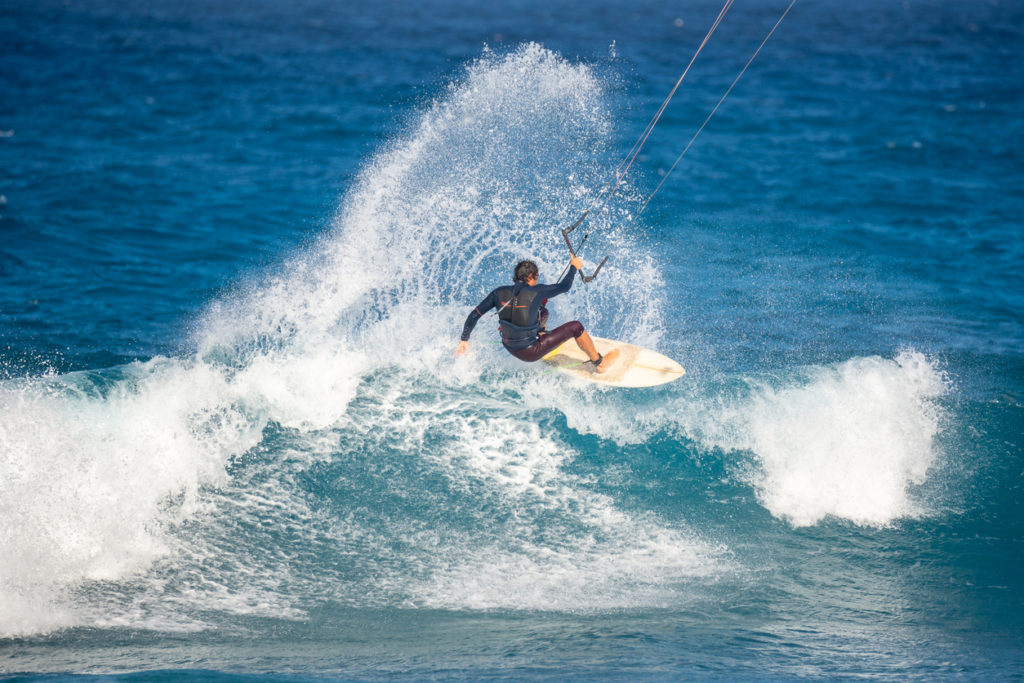 Glass Beach
Just a few kilometers south of Flag Beach you will have the chance to battle a wind that blows side offshore. This is no place for beginners, so make sure you know what you are doing when you get there. The El Burro wave is the most wanted and awaits outside point break. With turquoise water, white sand, and plenty of waves in the winter, this spot promises fabulous kite surfing experiences.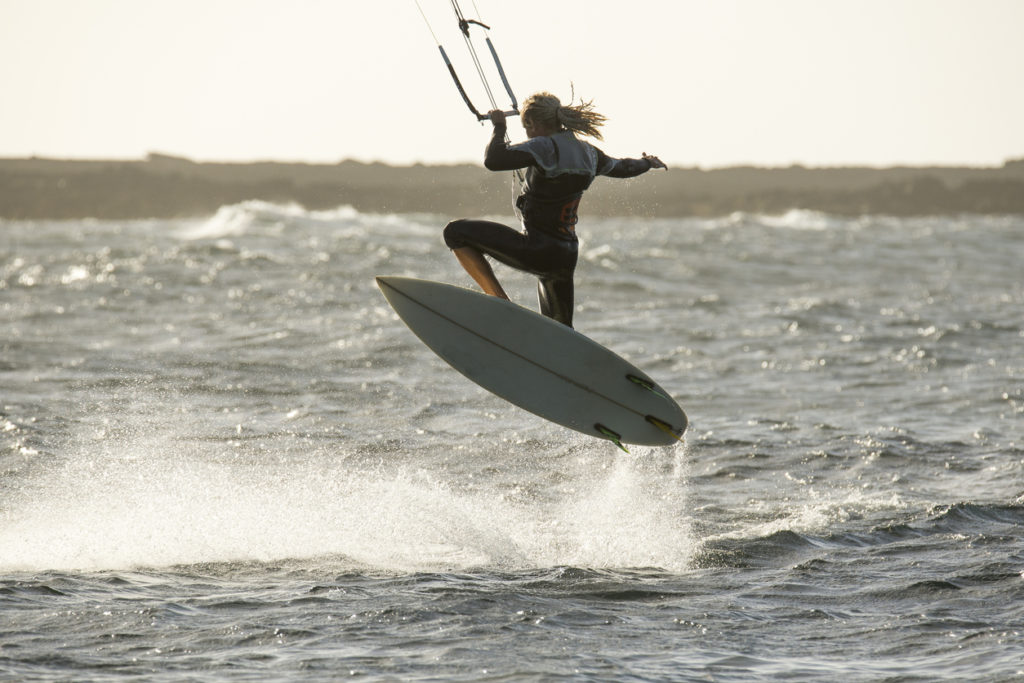 Majanicho
Brave and experienced kite surfers are always eager to confront the wind and waves at Majanicho. Reaching up to 3.5 meters, the waves at Majanicho are not for beginners. Wear your booties to avoid the volcanic rocks on the bottom and head to the region outside the reef for the real adventure. This is the perfect starting point for a tour of some of the best kite surfing spots on the island.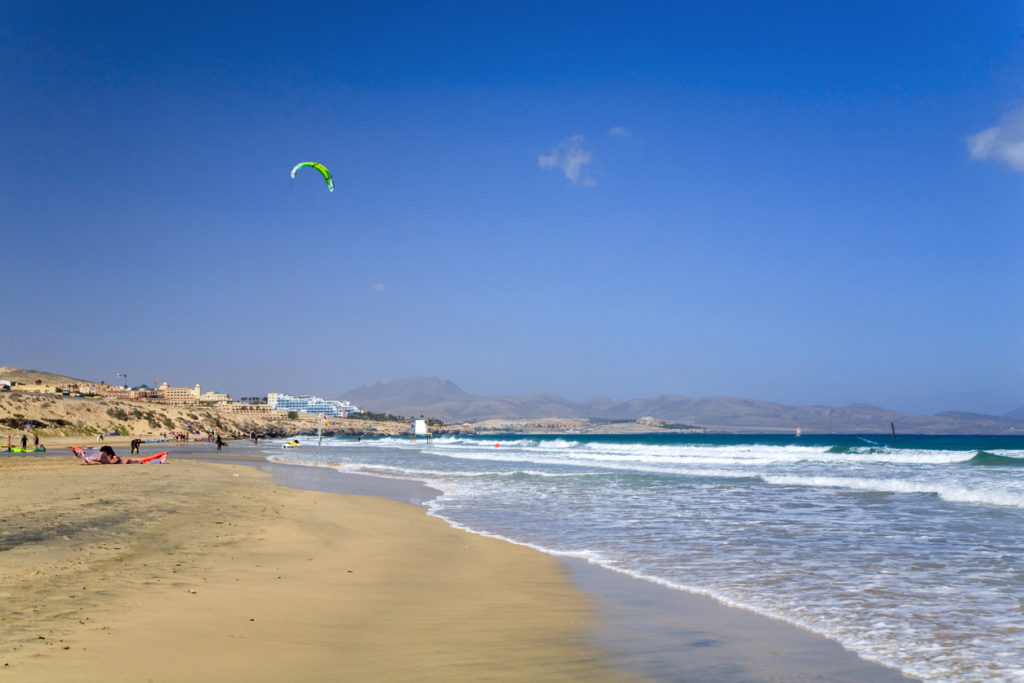 Costa Calma
With flat waters and dependable winds, Costa Calma is true to its name. The wind blasts in a cross-offshore direction at 15-28 knots, so you can enjoy kite surfing at incredible speed. Costa Calma is a year-round kite surfing destination especially for beginners who don't need to add untamable waves to their experience.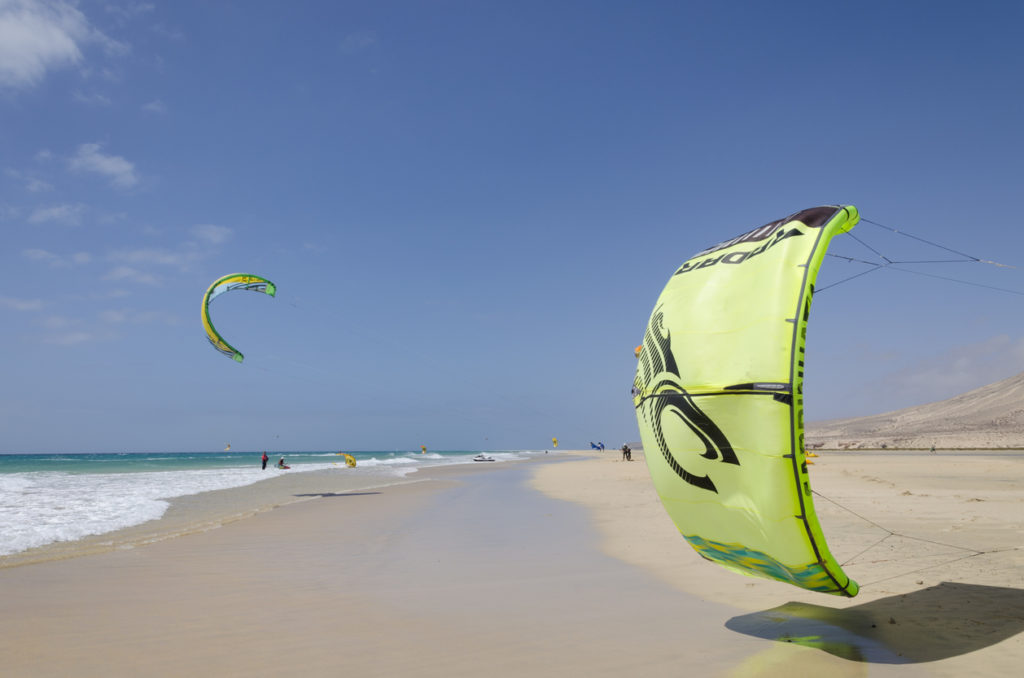 Sotavento
Situated in the south of the island, Sotavento is often visited by gusty winds eager to reach up to 30 knots. The winds blow across the beach offshore and side-off and attract courageous kite surfers who aren't afraid to try kite surfing in the windiest area of the island. However, the spot is not recommended for beginners unless its flat-water lagoon is full. Make sure you check the tides before coming down here because the lagoon is not always full of water.